Nottara Theatre Tour in London
09 - 19/11/2011 @ The Pit, Barbican Centre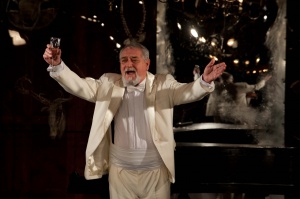 Nottara Theatre from Bucharest showcases, at Barbican Centre, Vlad Massaci's stage version of Festen by Thomas Vinterberg and Mogens Rukov. The production is a sample of world class directing and performance and marks the come back of the Romanian theatre on the London stage after more than 13 years of absence.
Based on the first, multi-award-winning Danish film that emerged from the Dogme 95 movement, this movingly realised stage version blends nuanced performances from its Bucharest ensemble, urging us to reflect on the lasting consequences of turning away from the truth.
Festen is the story of the Klingenfeldt-Hansen family gathered to celebrate a patriarch's 60th birthday. But festivities around the banquet table are interrupted as a startling secret, left to fester over years, is exposed. In Massaci's personal view, the story of the troubled Klingenfeldt-Hansen family is the story of the very society we live in: "one that rejects dealing with recent history. If shrinks for nations existed, we should be making appointments" (Vlad Massaci).
Festen @ The Pit is a rare opportunity to encounter several generations of Romanian actors. The exceptional cast includes Alexandru Repan, Emil Hossu, Catrinel Dumitrescu, Ion Grosu and the young Ada Navrot and Dan Bordeianu.
There will be a post show talk on 14 November when Guardian journalist John O'Mahony and Romanian theatre critic Anca Ioniţă will be in conversation with director Vlad Massaci.
Festen @ The Pit is part of Barbican International Theatre Events. The bite season presents fresh new work that hovers on the very edges of classification. Work that marries dance, theatre and music in unexpected ways, explores what theatre could be, stirs emotions, is passionate, mischievous and makes you smile.
About the theatre and the director
Nottara Theatre is one of the oldest repertoire theatres in Bucharest, with a distinctive artistic voice in the Romanian cultural landscape. Acknowledged over the years by audiences and critics alike for the company's outstanding creative ensemble, Nottara has mounted in time over 320 exciting Romanian and international productions. Having showcased work at numerous festivals across the world, from Ukraine to Uruguay, Festen at The Barbican marks the theatre's UK debut.
Director Vlad Massaci is a long-term collaborator of the Nottara Theatre, where he has previously mounted The Cripple of Inishmaan by Martin McDonagh (2005), Platonov by Cehov (2008) and Festen (2009). Self-defined as an advocate of simplicity in theatre, Massaci places the ensemble at the heart of the production, and the world of the production within each actor. His artistic vision is confirmed by the critically acclaimed performances.
Performed in Romanian with English surtitles.
When: 9 – 19 November, 7.45pm
Where: The Pit, Barbican Centre
Tickets: £ 18
Special Offer for friends of the Romanian Cultural Institute - £15 tickets! To book visit barbican.org.uk or phone 0844 848 5211 and use code 91111