The Romanian Musician Cristian Niculescu: A Tale of Technique, Talent and Simply Ravishing Sounds
03/02/2022 @ Romanian Cultural Institute, 1 Belgrave Square, SW1 8PH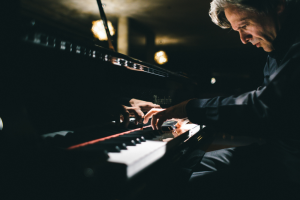 The February concert of the long-lasting and popular Enescu Series is a feast of music performed by pianist Cristian Niculescu. The wonderfully curated programme includes grand names such as Bach, Brahms, Beethoven, Satie and Enescu.
Programme:
George Enescu - Op.18 Pièces Impromptues
Johann Sebastian Bach - Nun komm, der Heiden Heiland
Ludwig Beethoven - Sonata no 17 in D minor, Op. 31, No. 2
(interval 20 minutes)
Johannes Brahms - The Three Intermezzi, Op 117
Erik Satie - Gnossiennes No.3 & No.4
George Enescu – Carillon Nocturne, Piano Suite No.3, Op.18, Pièces Impromptues.
Cristian Niculescu was born in Bucharest, where he studied piano with Cristina Georgescu and Sandu Sandrin. He completed his studies at Hochschule der Künste Berlin with Hans Leygraf and attended the masterclasses of Dmitri Bashkirov in Salzburg and Madrid. Cristian played as a soloist with National Radio Orchestra and George Enescu Philharmonic in București, Cleveland Chamber Symphony Orchestra, Berliner Symphoniker, Brandenburgischen Philharmonie Potsdam and Anhaltischen Philharmonie Dessau, and has appeared on the chamber music series of Berliner Philharmoniker, Konzerthausorchester Berlin, Deutsche Oper Berlin, DR SymfoniOrkestret København and Norddeutsche Rundfunk Sinfonieorchester Hamburg. He is the founder of the piano duo Niculescu & Bálint and of the chamber music groups Dinu Lipatti Trio Berlin and Ensemble Contempo Paris, and the initiator and Artistic Director of the Kammermusiktage Ahrenshoop Festival (Germany). Among his artistic partners are Ruxandra Donose, Mihaela Martin, Florin Paul, Frans Helmerson, Jeremy Menuhin, Avi Avital, Ramon Jaffé, Lior Shambadal, Gerd Albrecht, Diego Masson, Horia Andreescu, Emil Simon, Lior Shambadal, Camil Marinescu, Corneliu Dumbrăveanu, and Aron and Athäneum string quartets. His recordings are broadcasted by BBC, NdR Hamburg, Deutschland Radio Berlin, Danmarks Radio, and Radio Romania.
When: Thursday, 3 February 2022, 19:00
Where: Romanian Cultural Institute, 1 Belgrave Square, London SW1X 8PH
Entrance is free but we kindly request you to book your ticket on Eventbrite. Please note that seating is unreserved.