The Romanian Musical Events Resume at St Martin-in-the-Fields
19/10/2015 @ St Martin-in-the-Fields, Trafalgar Square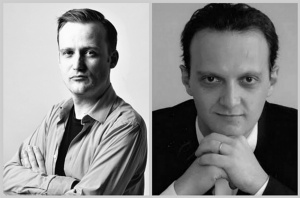 After a busy Romanian musical summer in Trafalgar Square, we are back at St Martin-in-the-Fields for a no less assiduous autumnal season of chamber concerts and recitals, opened by violist Mircea Belei and pianist Attila Szekely. The programme features the richly evocative 'Kol Nidrei' ('All Vows') by Max Bruch and Dmitri Shostakovich's swan song, Sonata for viola and piano op. 147.
Praised for his "outstanding personality not only as a viola soloist, but also as a chamber musician" (Vladimir Mendelssohn), Mircea Belei has worked with a great number of notable musicians including Gerard Causse, Mstislav Rostropovich, Heinrich Schiff and Mihaela Ursuleasa. He is the recipient of numerous national and international awards. Mircea has made recordings and tours with various European orchestras and chamber music groups, which have taken him to France, Germany, Austria, Romania, Hungary, Italy, China and Hong Kong. After graduating the Gh. Dima Music Academy in Cluj-Napoca, he moved to Graz where he continued his studies with Matthias Maurer, a former principal violist of the Concertgebouw Orchestra in Amsterdam. In 2001, he obtained a scholarship and began to study in Italy with Vladimir Mendelssohn and Simonide Braconi. In 2005, he was selected to perform together with other students at the Europeisches Podium Junger Solisten in Stefanien Saal, the main Concert Hall in Graz. In 2006, he joined the Tyrolean Symphony Orchestra in Innsbruck, Austria, as Co-Principal Viola. After two years he obtained a contract with the Madeira Classical Orchestra. In 2012, he moved to London and immediately became Associate Principal Viola with the Royal Liverpool Philharmonic Orchestra. He is also a constant collaborator of the Philharmonia Orchestra in London.
After studies in his native city of Târgu-Mures, Romania, Attila Szekely received a scholarship to study at the prestigious Franz Liszt Music Academy in Budapest, under the tutorship of Jenö Jandó. In 2000, he graduated the Gh. Dima Music Academy in Cluj-Napoca, with renowned Professor Adriana Bera. Later on, he was awarded with the DAAD prize (Deutsche Akademisches Austauschdienst) and a scholarship to study in Trossingen with Gabriel Amiras and later with Cordelia Höfer-Teutsch at the Salzburg's Mozarteum. He took piano masterclasses with Malcolm Bilson and Gerard Frémy. Attila Szekely has also established himself as a notable chamber music pianist and has given recitals and concerts with various international chamber ensembles. He is the winner of the 1st prize at the Frederic Chopin International Piano Competition in Bucharest and received the 3rd Prize in the Jeuneses International Piano Competition. He has performed as a soloist both with the Transylvania Philharmonic Orchestra in Cluj-Napoca and the Targu-Mures Philharmonic Orchestra as well as many other orchestras in Romania, Germany, Austria, France, Hungary, Switzerland and Dubai.
When: Mon, 19 October, 1pm
Where: St Martin-in-the-Fields, Trafalgar Square, London
This lunchtime concert is free and no ticket is required.