The Romanian Language Day: Special Talk by Oana Uță Bărbulescu about the first historical document written in Romanian, the famous Neacșu's Letter
31/08/2021 @ online | Website, Facebook page and YouTube channel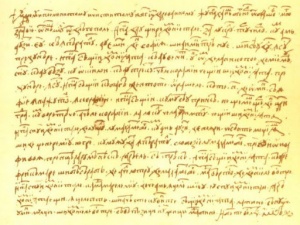 The Romanian Language Day is celebrated every year on 31 August and, on this occasion, we are hosting a special lecture by Oana Uță Bărbulescu, Lector in Romanian Language at the University of Oxford and Lecturer in Linguistics at the University of Bucharest, Faculty of Letters.
Oana Uță Bărbulescu will immerse our online audiences in historical linguistics, as well as in the history and structure of Romanian language. As 2021 marks the 500th anniversary of the first historical document in Romanian, Neacșu's Letter (Neacșu's letter from Câmpulung to the counties of Brașov), a special attention will be given to the phonetic and grammatical features of the manuscript, presumably written on June 29-30, 1521 in Dlăgopole (the Slavic name of the city of Câmpulung-Muscel, Romania), part of the historical ensemble of relations between the Saxon merchants of Brașov county and those of the cities of Moldavia and Wallachia.
Oana Uță Bărbulescu is a researcher with particular interest in historical linguistics (especially historical morphology and syntax), history and structure of Romance languages (with special focus on Romanian), dialectology (with special focus on trans-Danubian dialects), and translation studies. She is Lector in Romanian Language at the University of Oxford (thanks to Institutul Limbii Române / The Institute of the Romanian Language).
When: 31 August 2021, 19.00.
Where: RCI London's online channels: Facebook page, YouTube channel & website
In English | Running time: 38 minutes.