The Romanian Cinematheque is doing "Eastern Business"
07/06/2017 @ Romanian Cultural Institute London, 1 Belgrave Square, SW1X 8PH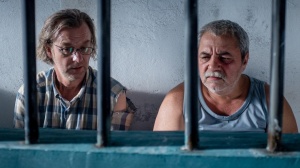 The series of new Romanian productions presented at our Cinematheque resumes en force with the UK premiere of "Eastern Business" (Afacerea Est), the irresistibly funny, bittersweet comedy directed by Igor Cobileanski, which portrays two very different characters, a choir singer and a construction worker, drawn together by one absorbing goal: to make it big in business.
The film won the Jury Prize (for the Best Script and Best Actor) at the 2016 Tallinn Black Nights Film Festival, one of the biggest film festivals of Northeastern Europe.
Cast: Ion Sapdaru, Constantin Puscasu, Daniel Busuioc, Anne Marie Chertic
Writer-Director: Igor Cobileanski
Producer: Iuliana Tarnovetchi
Co-producers: Oana Prata, Dagne Vildziunaite
Director of photography: Feliksas Abrukauskas
Production designer: Vali Ighigheanu
In Romanian with English subtitles.
When: 7 June 2017, 7pm
Where: Romanian Cultural Institute London, 1 Belgrave Square, SW1X 8PH
Free entry. Please book your seat here.