The Romanian Cinematheque is back with Paul Negoescu's 'The Story of a Summer Lover'
27/02/2019 @ Romanian Cultural Institute London, 1 Belgrave Square, SW1X 8PH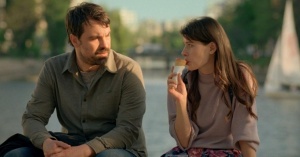 After a great box office success with 'Two Lottery Tickets' (2016), celebrated Romanian director Paul Negoescu returns with his third feature, a bitter-sweet comedy that speaks about the way in which summer love can change one's life. The film, written as a homage to Woody Allen, premiered at the Transilvania International Film Festival (TIFF) last year.
UK Premiere. Followed by Q&A with director Paul Negoescu.
Synopsis: Petru is a professor of mathematics at the Polytechnic University of Bucharest and leads a carefree life. He is in an open relationship with Irina, who overlooks that he sleeps with other women from time to time. But once Irina gets pregnant, Petru is forced to change his lifestyle and grow up, even if he is 42. One of his friends, who was always there for him, decides to write a book about his story.
Born in 1984, scriptwriter and director Paul Negoescu studied film directing at the National University of Theatre and Film (UNATC) in Bucharest. He directed several short films that were selected and awarded in many international film festivals, including Cannes (Semaine de la Critique - 2012), Berlinale (2008, 2009 and 2010), Karlovy Vary or Rotterdam. Two of his short films were nominated at the European Film Academy Awards in 2009 and 2011. His first feature film, 'A Month in Thailand', premiered at the Venice Film Festival in 2012 and was awarded with the FIPRESCI prize in the Sofia IFF in 2013. He is an assistant lecturer at the UNATC, founder of a film festival in Timișoara and a member of the European Film Academy. He started his own company to produce his own short films but eventually got to produce other films as well, including fiction films, documentaries or animation films.
'The Story of a Summer Lover'
Directed by Paul Negoescu
Produced by Paul Negoescu with Poli Angelova and Nickolay Todorov
Screenplay by Paul Negoescu
Starring: Alexandru Papadopol, Nicoleta Lefter, Crina Semciuc
Running time: 1h 39 minutes
In Romanian with English subtitles.
When: Wednesday 27 February, 7pm
Where: RCI London, 1 Belgrave Square, London SW1X8PH
Admission is free and the seats are allocated on a first come, first served basis. Please confirm your attendance on Eventbrite.