The Romanian Centenary Celebration: 'Music from the Great War'
01/02/2018 @ Romanian Cultural Institute London, 1 Belgrave Square, SW1X 8PH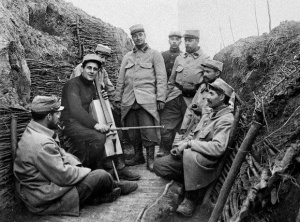 Ca parte a programului special de evenimente celebrând Centenarul Marii Uniri, populara serie de concerte Enescu se va axa, printr-un numãr de recitaluri, pe rememorarea a o sutã de ani de muzicã româneascã. Dãm startul anului alãturi de Dinu Lipatti Trio, care vor interpreta cu precizia şi expresivitatea tipice compoziții scrise în anii tulburați ai Primului Rãzboi Mondial.
Program:
George Enescu: Melodie from Suite No. 3 for Piano, Op. 18
Frank Bridge: Sonata for cello and Piano, H. 125
Claude Debussy: Sonata for Violin and Piano in G minor, L. 140
Zoltán Kodály: III. Maestoso e largamente, ma non troppo lento. Presto from Duo for Violin and Cello, Op. 7
George Enescu: Piano Trio in A Minor (edited by Pascal Bentoiu)
Când: Marți, 1 februarie 2018, 19:00
Unde: Institutul Cultural Român - 1 Belgrave Square, London, SW1X 8PH
Intrarea este gratuitã. Vã rugãm sã confirmați prezența pe Eventbrite.