Fashion exhibition: The Rest Is Tomorrow
13 - 21/02/2013 @ Romanian Cultural Institute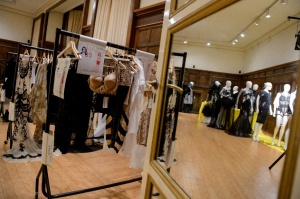 Part of the British Council and British Fashion Council's International Fashion Showcase at the London Fashion Week 2013
Precise and refined. Resplendent. Decadent. Subtle and minimalist or eccentric and cutting-edge… Just a few ways of describing Romanian fashion in 2013. Nevertheless, the designers brought together in the exhibition "The Rest Is Tomorrow" prove it is easier to say what it is not than to describe what it is. They belong to different generations and have different aesthetic agendas and concerns, but are united in reviving and reimagining the creative potential of Romanian design, textiles and decorative arts. Their six brands have established individual identities, yet together, they open the way to a new philosophy, a neo-traditional outlook.
Doina Levintza
The first designer from Eastern Europe who has ever presented a collection at New York Fashion Week, Levintza started her career designing costumes and sets for the Romanian National Television, after graduating from the Architecture School in Bucharest. She made her international debut in fashion in Paris in 1984. Since then, over 100 fashion shows in Romania and in cities like Paris, Monte Carlo, Washington and New York made her name renowned all over Europe and the United States. Levintza has been appointed Purveyor to the Romanian Royal House for the third consecutive time, and in 2011 was awarded the Order of Arts and Letters offered by the French Minister of Culture in recognition of significant contributions to the arts.
Irina Schrotter
Irina Schrotter launched her brand 23 years ago, in Iaşi, Romania, and her flowing evening gowns and smart business clothes were an instant hit among women in search for an alternative day-to-day wear. At the end of the '90s, Schrotter organized for the first time what is now called the Romanian Fashion Week, and in 2001 she took part in the "Prêt-à-Porter Paris" showroom, which was the starting point of her international success. After 2000 Schrotter has presented her collections regularly at the Mercedes-Benz Berlin Fashion Week. Today her brand is sold across 4 continents in 17 countries.
Andreea Bădală
Andreea Bădală, BA graduate of the Fashion Design department in Bucharest and of a Diploma in Pattern Technology at the London College of Fashion, is the young talent behind Murmur, a brand of daywear and eveningwear for women. The designer combines traditional techniques with experimental ones, the clothes being conceived as 3D objects surrounding the body, with fabrics that give vibration, structure and materiality to the sculptural object. Bădală's garments are meant to be the final expression of female self abandon, devotion and love.
Lucian Broscăţean
Lucian Broscăţean has graduated from the BA and MA Fashion Design Course at the University of Art and Design Cluj-Napoca. Since his debut collection "Nomadic Symptoms" in 2008, he has been exploring different avenues of contemporary fashion. His collections have been presented in various fashion shows both in Romania and abroad. He participated in the Mercedes-Benz Berlin Fashion Week five times consecutively after 2000. Mobility, nomadic lifestyles, versatility, and heterotopic spaces are some of the seminal zones that Broscăţean explores.
Dinu Bodiciu
Dinu Bodiciu is a Romanian born, London based fashion designer. After studying Graphic Design as his first degree, he graduated from MA in Fashion Design and Technology at London College of Fashion in 2011. Selected by the Wallpaper magazine as one of the most influential young designers of 2011, Bodiciu sees his creations as an extension of the body and is interested in their 'organic' nature, reflected or conflicted through textured fabrics, sharp cuts and graphic elements.
Carla Szabo
Carla Szabo is an accessory designer based in Bucharest, mostly known for her conceptual jewelery collections developed since 2004. She also collaborated over the years with many established Romanian designers, creating specially dedicated jewelery collections for Irina Schrotter or Stephan Pelger, to name a few. Among her sources of inspiration are the harmony of nature, urban culture, the relation between the past and the present, and self-knowledge.
The exhibition is a partnership with: Galateca Gallery Bucharest. Exhibition design: Attila Kim.
Special thanks to RoExport UK for their generous support.
When: Preview Wed 13 February, 7 - 9pm. The exhibition is open until 21 February, Mon – Fri, 10am – 5pm.
Where: Romanian Cultural Institute, London SW1X 8PH.
Free entrance.