The Radio Theatrical Performance 'Decomposed Theatre/Omul pubelă' by Matei Vișniec
24/04/2021 @ online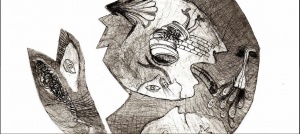 RCI London will broadcast the radio theatrical performance Decomposed Theatre/Omul pubelă by the outstanding Romanian writer Matei Vișniec, translated into English by Jozefina Komporaly.
Directed by Kate O'Connor | Cast: Maria Forrester | Sound Editor: Sam Halmarack | Radio adaptation: Andrew Singer

In this theatrical performance, Matei Vișniec explores with surreal and cruel irony the excesses of our society and introduces a nameless character: The Man, a universal man, a timeless man, an Eternal Man who is always under pressure. The show addresses, ultimately, the theme of dehumanization.
Following the performance, Trafika Europe director Andrew Singer will host a conversation with the writer and translator of this seminal work.
Matei Vişniec is an award-winning Romanian-French playwright, poet and journalist. After the fall of communism in Romania, in 1989, Matei Vișniec became one of the most performed playwrights in the country, with more than 30 plays put on in Bucharest and several other towns. His international audience as a playwright started in 1992, with the play Horses at the Windows performed in France, and Old Clown Wanted. His many awards include prizes from the Romanian Writers' Union, the Romanian Theatre Union (UNITER), the Avignon Festival, the French Society of Writers and Composers, and the 2016 Jean Monnet Award for European Literature.
Jozefina Komporaly is an English and drama professor whose primary areas of interest are identity in theatre and performance, post-war and contemporary British and European theatre, and stage translation. She is particularly interested in gender issues and feminist theory, including drama and gender, women's playwriting, and feminist theatre. In her first book, Staging Motherhood: British Women Playwrights, 1956 to the Present, she examines how motherhood has been represented on the stage through the writings of post-1956 British women playwrights.
Maria Forrester is a talented Romanian actress, originally from Iași, based in London, who starred in the productions Doctors (2000), Love On The Cards (2018) and Grief (2018).
The show was recorded at RCI London and was funded by the University of the Arts London (UAL), in partnership with RCI New York and the online radio Trafika Europe.
Illustration: "Homme Poubelle" / "Human Trashcan" by Andra Vișniec
When: 24 April 2021, 19.00
Presented as part of the Trafika Europe Radio Theater series: https://trafikaeurope.org/go/radio-theater
After the premiere, the performance will remain available at the above link for listening on-demand anytime.