Nostalgic Vibes in the Enescu Concerts Series
07/11/2013 @ Romanian Cultural Institute, 1 Belgrave Square, London, SW1X8PH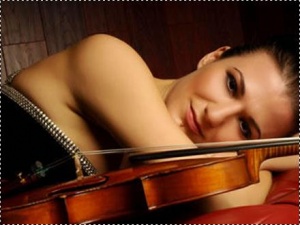 Romanian-trained Albanian violinist Alda Dizdari, praised for her suave interpretations, makes her debut in the Enescu Concerts Series with a recital full of melancholic fervour, which brings to life the enchanting harmonies of La Belle Epoque. Alda will be accompanied by pianist Tom Blach.
Programme:
Ernest Chausson – Poème
George Enescu – Impressions d'enfance
Jean Sibelius – Ballade Op.115 No. 2; Berceuse Op.79 No. 6; The Bells Op. 115 No. 4
Maurice Ravel – Sonata for Violin and Piano
Alda Dizdari is an outstanding musician of immense diversity. Her triumphant debut at the Wigmore Hall and Southbank's Purcell Room have already led to important appearances on BBC Radio 3, solo performances in Europe and the USA and the release of three highly acclaimed CDs, one of which recorded live from the Wigmore Hall. Selected by the Gramophone as "One to Watch" musician in the May 2011 issue, she launched in July 2011 a Solo Violin Tour in the UK titled "In the Footsteps of BACH", promoting her studio CD with the same programme. In 2006 she received her first nomination for "The Best Classical Musician of the Year" in her native Albania. Internationally she rose to fame in 2008 after performing Sibelius Violin Concerto with the Albanian Radio -Television Symphony Orchestra making their UK debut in Canterbury Cathedral. Now based in the UK, Alda was born into a family of musicians and left her native Albania from an early age to pursue her career in music. She studied in Romania with distinguished soloists and received a Bachelor Degree from the University of Bucharest. She continued her Master Studies at the University of Illinois in USA and her Advanced Instrumental Studies in London, at the Guildhall School of Music and Drama. Alda Dizdari is playing a G.B.Ceruti Violin, Cremona 1791, bought specially for her by a private sponsor and a Dominique Peccatte Bow on loan from the Stradivari Trust.
Tom Blach studied with John Barstow and Yu Chun Yee at the Royal College of Music where he was a major prizewinner. Since his highly acclaimed London debut in 1987, under the auspices of the Park Lane Group, he has performed extensively in collaboration with many of today's finest artists. He has appeared on television on the BBC, in France, Spain, Germany and Russia, and on radio worldwide, and given recitals at the National Auditorium in Madrid, The Seoul arts centre, The Auditorium du Louvre and Salle Gaveau in Paris, the Herkulesaal in Munich, the Royal Festival, Queen Elizabeth and Wigmore Halls in London, Bridgewater Hall in Manchester, St. David's Hall in Cardiff and at festivals including those of Bath, Brighton, Newbury, Harrogate, Swansea, Chichester, Colmar, Palma, Mecklenburg and Schleswig-Holstein.
When: Thu 7 November 2013, 7pm;
Where: Romanian Cultural Institute, London
Admission is free, but places are limited. Early booking is well recommended.
Please reserve your seats at T: 020 7752 0134, E: office@icr-london.co.uk
The seats are allocated on a first come, first served basis.