'The Need for Belonging?' Exhibition by Anca Stefanescu
15/01 - 07/02/2020 @ Brâncuși Gallery, RCI London, 1 Belgrave Square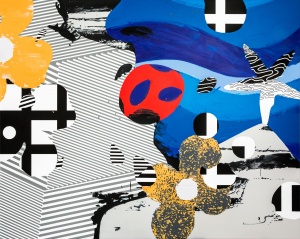 The Romanian Cultural Institute in London is delighted to open the 2020 visual arts programme in its Brâncuși Gallery with "The Need for Belonging?" exhibition by Oxford-based Anca Stefanescu.
Born in 1974, Anca Stefanescu began studying painting at the age of 12. Since then arts has always been her passion, and in 1999 she graduated with Master of Fine Arts degree, majoring in painting, the National University of Arts Bucharest. She made a detour as a DI Colorist and Graphic Designer, working for major production and post-production companies in Romania.
Always in search for new aesthetically ways of expressing joy and love Anca Stefanescu's works reflect her intention and devotion to capturing the refined beauty of biological and geological forms and the pulsation of our true nature while revealing the essence of consciousness.
The artist brings a great mastery of colour theory, outstanding sense of rhythm and compositional elements. At the same time, each painting reflects in a sophisticated yet sensitive and creative way a unique individual expression of oneness.
Selected Exhibition and Biennials
2019 - The Other Art Fair London, Art Fair by Saatchi Art, London, Contemporary Painting Exhibition, The Brick Lane Gallery, London, ALL Women Art Competition and Exhibition, Contemporary Art Gallery Online, Annapolis, MD, USA, 2nd Annual Women Artists Art Exhibition, Fusion Art Gallery, Palm Springs, CA, USA
2018 - The 2018 Open / No theme Art Exhibition, Contemporary Art Gallery Online, Annapolis, MD, USA, Biennale Larnaca, Cyprus, Sunny Art Prize Exhibition, London, NAG Art Gallery, Contemporary Exhibition, San Lorenzo Church, Florence, Italy, Amsterdam Whitney Gallery, New York City, NY, USA, World Art Dubai, Contemporary Art Fair, Dubai, United Arab Emirates, Jorge Jurado Gallery, Art Show, Bogota, Columbia, ART Innsbruck, International Art Fair, Innsbruck, Austria
2017 - THE ROOM Gallery, Contemporary Art Space, Venice, Italy, Open / No theme, Contemporary Art Gallery Online, Annapolis, MD, USA, Patterns Art Exhibition, Light Space & Time Online Art Gallery, Jupiter, FL, USA, Blue Art Show, Colors of Humanity Art Gallery, Everett, PA, USA, Spectrum/Red Dot Miami, Contemporary Art Show, Miami, FL, USA, RomArt Biennial, The International Biennial of Art and Culture in Rome, Italy, Florence Biennale, Florence, Italy.
Full list at https://www.ancastefanescu.com/artist-bio
When: Opening & Reception - Wednesday 15 January 2020, 19.00
On the walls: 16 January - 7 February 2020, Mon-Fri 10.00-17.00

Where: Brâncuși Gallery, Romanian Cultural Institute, 1 Belgrave Square, London
Free entry.