THE MOROMETES 60: Preda On Screen
10 - 30/06/2015 @ RCI London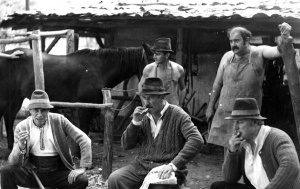 A daring, unforgiving mirror of a society disrupted by violent change, teaming with memorable characters and tackling the most stringent themes of a traumatic time, Marin Preda's literature has been a copious source of stories for the big screen.
The 'Preda On Screen' series at the Romanian Cinematheque revisits two of the best adaptations of the great writer's works, culminating with an evening of superlative cinema with director Stere Gulea, the author of unsurpassed filmic adaptation of 'The Morometes',
and the opening of the photographic exhibition, 'Marin Preda: A life in pictures and books' - a revealing incursion into the creative process of both a literary masterpiece and a great film, set up by the Romanian Cultural Institute in London together with the National Museum of Romanian Literature.
"(Stere Gulea's) 'The Morometes' moves me most intensely, even more than (Lucian Pintilie's) 'Reconstruction'. When I say 'The Morometes', I say great acting, and I think it is the most important Romanian film ever in terms of great acting." - Cristi Puiu for România Liberă, 2005
"I like Stere Gulea's film not only for its correct transposition of the novel but also for its atmosphere and its authenticity, which are both very convincing. Victor Rebengiuc is a genius. There are a few things in the film that go very well together: the photography by Vivi Drăgan Vasile, the actors etc. I can't remember how many times I've seen 'The Morometes', and I still want to see it again." - Radu Muntean for România Liberă, 2005
Programme:
10 June, 7pm: 'The Morometes' (1987) + Q&A with director Stere Gulea. Free entry, please book your seat in advance.
The film is a minute and complex portrayal of the Romanian countryside life during the '30s, presenting the dissolution of a traditional peasant family due to a series of irreversible societal shifts, despite Ilie Moromete – the head of the family's desperate attempts to keep his family together and to not sell the land he had. Cast: Victor Rebengiuc, Luminița Gheorghiu, Gina Patrichi, Dorel Vișan, Mitică Popescu, Petrică Gheorghiu.
25 June, 7pm: 'The Great Loner' (Marele singuratic, 1976, directed by Iulian Mihu).
The film is based on the novel 'The Great Loner' by Marin Preda, published in 1972, a sequel of the novel 'The Morometes', with Niculae, Moromete's youngest son as a main character. It tells the story of Niculae's farm retreat, following a political conflict, and it tackles several essential topics like love and truth. Many thanks to Dacin Sara for this screening.
Free entry, please book your seat here.
The screenings take place at the Romanian Cultural Institute, 1 Belgrave Square, SW1X 8PH. In Romanian with English subtitles.

The events are part of 'The Morometes 60: The Jubilee of a Masterpiece', a celebratory programme that revisits the interplaying worlds of Marin Preda and his memorable characters through film, theatre, photography, and talks.