The Michelangelo Quartet promises a soirée of exquisite virtuosity at the Enescu Concert Series
01/11/2012 @ Romanian Cultural Institute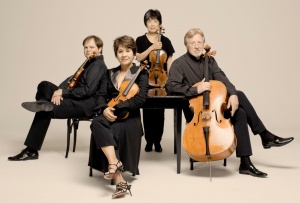 In November, the critically acclaimed Michelangelo Quartet premieres at the Enescu Concert Series with a superb choice of Enescu, Cherubini, Tchaikovsky and Beethoven. Highly praised for the collective virtuosity and understanding of the great scores, as well as for their musicality and intensity of feeling, the Quartet appears regularly on the best British stages and will play at the Wigmore Hall only two days after the Enescu Series performance.
The Michelangelo Quartet are: Mihaela Martin (violin), Daniel Austrich (violin), Nobuko Imai (viola), Frans Helmerson (cello). Formed in 2002 the ensemble has toured regularly in Scandinavia, Benelux, the UK, Germany, Italy and Japan, giving concerts in major halls such as the Concertgebouw, Amsterdam, Théâtre des Champs Elysées, Paris, Tonhalle, Zürich, and London's Wigmore Hall. Festival appearances have included Edinburgh, Sion, Naantali, Hardanger, the Pablo Casals Festival, Prades, and the Delft and New Zealand Chamber Music Festivals. They have recorded for Chaconne and for Pan Classics.
Programme:
Enescu: Impressions from Childhood: The Fiddler
Cherubini: String Quartet No. 3 in D minor
Tchaikovsky: String Quartet No. 2 in F Major, Op. 22
Beethoven: String Quartet in F Major, Op. 135
Romanian violinist Mihaela Martin has been awarded major prizes at the Tchaikovsky Competition and the First Indianapolis International Violin Competition, ensuring her international career. She is a professor at the Musikhochschule, Cologne.
Russian-born Daniel Austrich came to international attention after winning major prizes at the Sarasate and the Paganini Moscow International Competitions. He has played as soloist with the Moscow Philharmonic, Moscow State Symphony Orchestra, and the Zürich Chamber Orchestra.
Japanese-born Nobuko Imai is considered one of the most outstanding viola players of our time. She won high prizes at the Munich and Geneva International Competitions and holds professorships at the Amsterdam Conservatory and in Geneva.
Combining his love of chamber music with a solo career, Swedish cellist/conductor Frans Helmerson has performed with leading conductors and orchestras and at important international festivals. He holds a professorship at the Musikhochschule in Cologne.
When: Thursday, 1 November 2012, 7pm
Where: Romanian Cultural Institute, London
Admission is free, but places are limited. Early booking is well recommended.
Please reserve your seats at T: 020 7752 0134, E: office@icr-london.co.uk.
Latecomers will be admitted at the interval.