The Little Prince: A Musical Story Told by Thierry Huillet and Clara Cernat
14/09/2013 @ Kings Place, 90 York Way, London, N1 9AG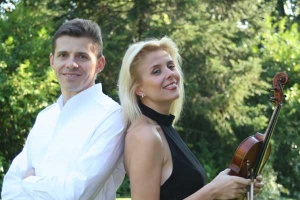 One of European musical scene's most endearing and charismatic couple, French composer and pianist Thierry Huillet and acclaimed Romanian violinist Clara Cernat, will take us to a vivid musical illustration of Antoine de Saint-Exupery's classic story, The Little Prince, as part of the 2013 Kings Place Festival.
Thierry Huillet's composition captures the book's infinite wisdom and ingenuity in a bitter-sweet score, whose playfulness allows Clara Cernat to showcase her supreme musical maturity.
Thierry Huillet - piano
Clara Cernat- violin
Maël - voice of The Little Prince (pre-recorded)
Thierry Huillet - voice of The Adult (pre-recorded)
The Little Prince for violin and piano
I. A boa constrictor digesting an elephant; II. "If you please…draw me a sheep!", III. Asteroid B612; IV. The baobabs; V. Sunset; VI. The flower; VII. The planets and their inhabitants; VIII. The snake; IX. The fox; X. "There now…That is all…"
This event is organised by Kings Place in partnership with the Romanian Cultural Institute in London and Institut Français in London.
Clara Cernat had her début at the age of 15 as a soloist with the Arad Symphonic Orchestra, in Romania and a quick and brilliant musical evolution that lead to the obtaining of five international prizes in France, Germany and Italy and to an intense activity of concerts and CD recordings. One of the representatives of the great Romanian violin school, Clara Cernat was a disciple of Stefan Gheorghiu in the Bucharest Music Academy, obtaining the highest awards in numerous disciplines: violin, chamber music, analysis, harmony, history of music, study of folklore, etc. After winning, among others, the 1st Prize in the Città di Andria and J.S. Bach International Competitions, the 2nd Prize and Mozart Special Prize in the Kloster Schöntal International Competition, Clara Cernat began a career as a soloist, playing the main violin concertos (Tchaïkovsky, Bruch, Mendelssohn, Saint-Saëns, Mozart etc.) with the Romanian Philharmonic Orchestras. She is also a much sought-after chamber music player, as a violinist and as a violist and particularly recognized as a favorite performer of George Enescu's music.
Thierry Huillet entered the Conservatoire National Supérieur de Musique de Paris at the age of 15, obtaining three years later a piano, chamber music and vocal accompaniment degree. He has won several international prizes, including the 1st Prize Robert Casadesus at the Cleveland International Piano Competition USA and prizes in Busoni and Tokyo International Piano Competitions, had hundreds of recitals and concerts with orchestra in numerous countries and recordings for Radio-France, R.A.I., Radio Suisse Romande, the Romanian Radio. After his success in international competitions, he was invited to play the main piano concertos with numerous famous orchestras and played recitals in France, USA, Japan, Italy, Spain, Austria, Malaysia, Romania and Ivory Coast. As a composer, Thierry Huillet's works have been performed in numerous countries and festivals and his music has been played by great musicians. Huillet's works as a composer are published at Editions Alphonse Leduc, Paris.
When: 14 September 2013, 9.45 am
Where: Kings Place, 90 York Way, London, N1 9AG.
Tickets: £4.50, book HERE