The king of all musical instruments will be celebrated by virtuoso Ferenc Vizi
24/03/2013 @ Institut Francais, Library, 17 Queensberry Pl., Londra, SW7 2DT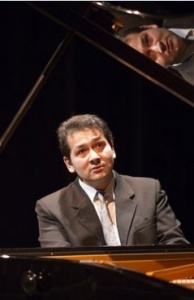 Ferenc Vizi, a young master of poetic touch and intense execution, offers an exceptional reading of some of the greatest scores written for the king of all instruments. Well known throughout the world for his talent and precision, the pianist will take us through a journey of rediscovery into the music of Mozart, Debussy and Gershwin.
The event is organised by the Institut Français in collaboration with the Romanian Cultural Institute.
Programme:
Mozart: Fantaisie in C minor for Solo Piano, K.475
Debussy: Préludes from Book II "Voiles" and "Les collines d'Anacapri"
de Falla: Fantasia Baetica
Piazzola: Tango Rhapsodie
Gershwin: Rhapsody in Blue
An initiative of the French Institute in London It's All About Piano! (22-24 Mar) features great pianists such as Imogen Cooper, Baptiste Trotignon, Anne Queffélec, Ferenc Vizi or Nick van Bloss and well-known pieces, from Bach to Gershwin, Schubert to Satie, and much more.
Born in Reghin, Romania, in 1974, Ferenc Vizi won a number of prestigious international prizes in Russia, Japan, Israel and Germany. He has since performed as a recital soloist and with orchestras in Europe. He conceived an innovative programme bringing together Liszt's Rhapsodies and traditional Hungarian gypsy music with the ensemble Cifra, a live recording of which will be released on Satirino Records in 2013. In November 2012 he has played together with the Târgu-Mureş Philharmonic Orchestra and has recorded together with cellist Laura Buruiană Mendelssohn's piano and cello works.
When: Sun 24 March 2013, 6pm;
Where: Institut Français, Library, 17 Queensberry Pl London, SW7 2DT
Tickets: £12, conc. £10, Piano Pass and students £6. You can book your tickets HERE