The Heritage of our Best Age
02 - 30/06/2012 @ 1 Belgrave Square, SW1X 8PH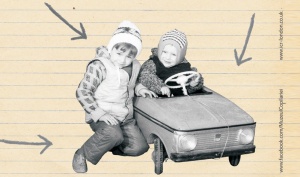 The Romanian Cultural Institute is delighted to mark the International Children Day with an exhibition, entitled Childhood. Remains and Heritage, in which Pinocchio, Peter Pan, Aladdin are as real as our nostalgia for them. Rediscover the lost paradise of childhood through the objects, clothes, stories, and games that make this time unforgettable. As parents wander through the universe of their juvenile bliss, children are invited to experience how it was like to be a kid 50 years ago.
Financed by the Europe 2003-2013 Programme and set up by the Museum of the Romanian Peasant and the Romanian Cultural Institute, in partnership with the Association for Promoting the Children's Education in France and Lębork Museum in Poland, the exhibition opens at the RCI on 2 June as part of our "At Home in Belgrave Square" events.
How large should be an exhibition about childhood? It might fit in a pocket, it might reach to the clouds, cut the world in two, enter a fairytale, hang on a coat hanger or be whispered in the childish tongue. One thing is certain: we all carry our own museum of childhood, whose doors are always open.
Lilla Passima, curator of the exhibition
We are grateful to Patiseria Română for reminding us that there is no childhood without sweets.
If you miss it in London, you can catch it in Paris, Stockholm, Madrid, Roma, Warsaw or Lębork throughout 2012.
When: 2 June 2012, 1 pm;
The exhibition will be open between 4-30 June, Mon-Fri 9am-5pm
Where: Romanian Cultural Institute London.
Free entry. As the number of seats is limited, please confirm your participation by contacting us on 020 7752 0134 or on our email: office@icr-london.co.uk.