The Folkloric Inspiration: A Musical Experience
03/07/2018 @ Romanian Cultural Institute, 1 Belgrave Square, London SW1X8PH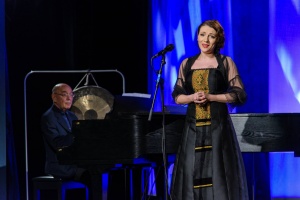 As part of our special programme dedicated to the Romanian Centenary (1918-2018), we conclude the first half of our 2018 musical programme with an exploration of Romanian folklore as the most important source of inspiration in the Romanian classical music tradition. Folk singer Ioana Maria Ardelean and tenor Daniel Magdal accompanied by pianists Diana Spânu and Aurel Mustăţea exemplify this crucial connection with a programme of traditional songs and related works by George Enescu, Tiberiu Brediceanu and Achim Stoia, many of which performed in Britain for the first time.
Folk singer and cultural entrepreneur Ioana Maria Ardelean comes from Bistrița-Năsăud, a scenic area in northern Transylvania. She studied canto in Bucharest and is a UNESCO specialist in inter-cultural communication. Alongside her successful singing career, Ioana Maria Ardelean is a tireless promoter of Romanian traditional music and a supporter of young and talented singers. She is also the Artistic Director of the popular "Golden Grape" Folk Festival in Alba Iulia. In 2012, Ioana Maria Ardelean launched her first CD entitled "I Sing for my Heart" and comprising songs from her native region, discovered and adapted together with prof. Aurel Mustăţea.
Tenor Daniel Magdal graduated the Iași Conservatoire and was a soloist at the National Opera in Iaşi until 1992 when he moved to Germany. He was a frequent star on opera stages in Magdeburg, Lübeck, Kaiserslautern, Münster, Saarbrücken, Hannover or Halle and took part in numerous prestigious opera festivals. Starting with 2004, he has been a constant presence on the stage of the Bucharest National Opera where he featured in "Aida", "Manon Lescaut" or "Samson and Dalila". In April 2011, he debuted in New York with a Beethoven lieder recital which he subsequently presented in Berlin and Bucharest.
With over 50 years of teaching experience, professor Aurel Mustăţea is a graduate of the National University of Music Bucharest where he studied musical theory, conducting and orchestra. Throughout his career he has collaborated with numerous radio and television stations and cultural institutions and became specialised in folklore. He has conducted many folklore masterclasses both in Romania and abroad. Aurel Mustăţea is currently a folk canto professor at the Bucharest Art School.
Pianist Diana Spânu is a musicology graduate of the Iași Conservatoire. Between 1990 and 1997 she was a répétiteur for the "Gavriil Musicescu" Choir of the Iaşi Philharmonic and between 1997 and 2001 she occupied the same position at the "Ion Dacian" Musical and Operetta Theatre in Bucharest. Since 2001 she has been an accompaniment teacher at the "George Enescu" Music Highschool in Bucharest.
When: Tuesday 3 July 2018
Where: Romanian Cultural Institute - 1 Belgrave Square, London SW1X 8PH
Entrance is free but it is required to book your ticket on Eventbrite - HERE
Please note that the seating is unreserved.