The Flavours of Poetry: Flamboyant Mircea Dinescu at RCI London
08/06/2018 @ Romanian Cultural Institute, 1 Belgrave Square, SW1X8PH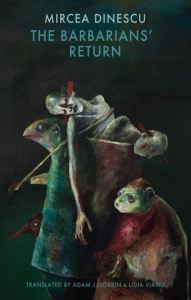 Renowned poet, star chef and TV personality Mircea Dinescu is our guest at 1 Belgrave Square for the launch of his most recent poetry collection in English, 'The Barbarians' Return', published by the prestigious Bloodaxe Books.
The famous author, admired for his brilliant poetry as well as his corrosive wit, will be joined by editor and writer Neil Astley, in a conversation about words, flavours and passions. The discussion will be illustrated by readings and sung recitations offered in Romanian by the great man himself and echoed in English by actress Cristina Catalina. The spirits will be lifted by some of Dinescu's trademark dishes, washed down with his equally tasty wines.
Mircea Dinescu (b. 1950) is a poet, journalist, TV personality, restaurateur and entrepreneur. He first published at the age of 16, and by 21 he won the Romanian Writers' Union Debut Prize. He soon became the "enfant terrible of Romanian literature". By the late 1980s, his activism brought him on a collision course with the communist authorities and in the spring of 1989 he was placed under house arrest for denouncing, in the French newspaper Libération, the horrors of Ceaușescu's Romania. He was the first man who, in December 1989, announced the fall of communism on the Romanian Television. In the aftermath of the Romanian Revolution, Dinescu published his most important work, 'O beție cu Marx' ('A Drink with Marx'), translated into several languages. In 1991, he founded the satirical review Academia Cațavencu (Cațavencu Academy), followed by the monthly magazine Plai cu boi (Land of Bulls) and the satirical weekly Aspirina săracului (The Poor Man's Aspirin). In May 2005, he founded the newspaper Gândul (Pensiero). His literary work is acclaimed both at home and abroad, and in 1991 he became an honorary member of the University of Augusta. In 1999, he is awarded the Herder prize for his literary works by the Alfred Toepfer Foundation and in 2003 Time magazine nominated him "hero of the year" in the Hate Busters category. In Britain, Forest Books published 'Exile on a Peppercorn' (translated by Andrea Deletant and Brenda Walker) in 1985. Further publications include Brendan Kennelly's translation in John Fairleigh's anthology 'When the Tunnels Meet: Contemporary Romanian Poetry' (Bloodaxe Books, 1996) and 'The Barbarian's Return: Selected Poems', translated by Adam J. Sorkin and Lidia Vianu (Bloodaxe, 2018).
Neil Astley is editor of Bloodaxe Books, which he founded in 1978. His books include novels, poetry collections and anthologies, most notably the Bloodaxe 'Staying Alive' trilogy: 'Staying Alive' (2002), 'Being Alive' (2004) and 'Being Human' (2011), which were followed by 'Essential Poems from the Staying Alive Trilogy' (2012). He has published two novels, 'The End of My Tether' (Flambard, 2002; Scribner, 2003), which was shortlisted for the Whitbread First Novel Award, and 'The Sheep Who Changed the World' (Flambard, 2005). He served as a director of the Poetry Book Society for three years and was responsible for the addition of poetry in translation to the book club's remit. Bloodaxe is one of Britain's leading publishers of poetry in translation, and has been publishing poets from Romania since 1983, with books by poets including Ana Blandiana, Ioana Ieronim, Marin Sorescu and Liliana Ursu as well as an anthology of contemporary Romanian poets.
When: Friday 8 June 2018, 7pm
Where: RCI London, 1 Belgrave Square. Free entry, please book your tickets on Eventbrite.