The First UK Solo Exhibition of Late Visual Maverick Ioana Nemeş
14/03 - 14/06/2014 @ Eastside Projects, Birmingham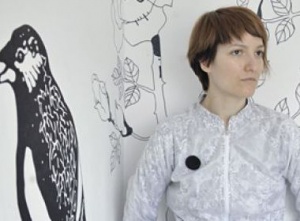 When her sudden death at 32 hit the news in 2011, Ioana Nemeş had established herself as one of Romania's most celebrated and original artists. Despite her young age, she had created a diverse and daring body of work that had catapulted her to international recognition. A selection of objects, prints and installations from her ambitious 'Monthly Evaluations' series (2003–2010) form the core of her first solo exhibition in Britain, which will open at the Eastside Projects in Birmingham on 14 March with the support of RCI London and in collaboration with KILOBASE Bucharest. The show is curated by Gavin Wade, director of Eastside Projects, together with KILOBASE.
Ioana Nemeş (1979-2011) was one of the most acknowledged and exhibited Romanian artists of her generation, whose drive was fuelled by the necessity to visualize and communicate as clearly as possible the hidden mechanism behind linguistic, visual, and psychological systems that define us. Ioana participated at the Istanbul Biennial (2009), U-Turn Copenhagen (2008), Prague Biennial (2007) and Bucharest Biennale 2 (2006). Her works have been presented in Art in General, NY (2011), Secession, Vienna (2010), Smart Project Space, Amsterdam (2009), Kunsthalle Fridericianum, Kassel (2006), and, more recently, in exhibitions like 'Ritual without Myth', Royal College of Art, London (2012), 'Desire is War', The Contemporary Art Gallery of Brukenthal Museum, Sibiu (2011), 'Communism Never Happened', Charim Gallery, Vienna (2011), as well as in publications like 100 New Artists (publisher Laurence King) and 'Romanian Cultural Resolution' (publisher Hatje Cantz). She was a resident at Art in General NY (2011), IASPIS Stockholm (2010), The Romanian Cultural Institute in London (2007) and Kulturkontakt Vienna (2004), and part of different collectives working in art, fashion and interior design contexts: Kilobase Bucharest (2011), Apparatus 22 (2011), Rozalb de Mura collections (2004-2010) and Liste Noire (2004-2011).
Inspired by Virginia Woolf's ideas about the flow of time, 'Monthly Evaluations' is a complex system that records the artist's daily moods and experiences. Ioana Nemeş developed her own system of self-observation that consists of five parameters: physical, emotional, intellectual, financial and a 'happiness' factor, analysing each day and then assigning it a colour and a quote. The project is like a scientific observation, a kind of note-taking in which the artist looks at her own life.
When: Preview - Friday 14 March, 6-8 pm. The exhibition continues until 14 June 2014, Wed-Sat, 12-5 pm.
Where: Eastside Projects, 86 Heath Mill Lane, Birmingham B9 4AR