The First Ever Romanian Feature Film, "The War for Independence", in Barbican's Silent Film Series
01/12/2013 @ Barbican Cinema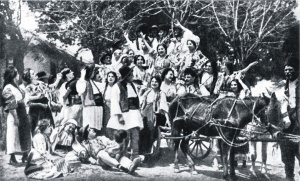 Right on the National Day of Romania, we celebrate the birth of our cinema with an exceptional screening of the first full length feature, "The War for Independence" ("Independenţa României", 1912) presented in the Barbican Cinema's Silent Film series.

Depicting the war between Romania and the Turkish Otoman Empire in the winter of 1877, this precious early silent film from 1912 captures scenes of traditional rural life and the army departing for war, and culminates in the victorious battle which enabled the creation of an independent Romanian state.

Romania 1912 | Dir Aristide Demetriade | 82 min
The film will screen with live music performed by London based American composer and pianist Lola Perrin.
Lola has appeared on various BBC radio programmes and collaborates with writers, scientists, composers and artists. Her work for eight hands at one piano, "Octopus Music", was featured October 2012 on BBC 3's In Tune. She performs to silent films, including at Barbican Cinema & BFI, and won Silent London's Best Silent Film Score 2011 poll for her soundtrack to "The Wind" (Victor Sjöström, 1928).
Presented in partnership with the Barbican Centre, the National Film Archive and the Embassy of Romania.
When: 1 December, 4pm
Where: Cinema 1 (Silk St)
Tickets: Barbican Members - £9.20, Standard - £11.50, Concessions - £10.50, Under 18 - £6 from Barbican website.