The Enescu Concerts Series
@ ICR London, 1 Belgrave Square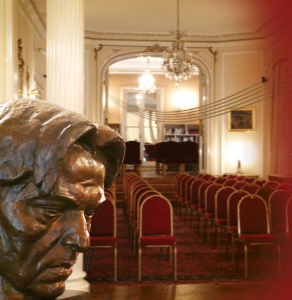 The Enescu Concerts Series, jointly organized by the Romanian Cultural Institute and the Enescu Society, aims to promote the music of the greatest Romanian composer to British audiences.
The concerts are given by outstanding Romanian and international musicians and usually take place on the first Thursday of the month, from February to December (but not August and September) in the Institute's chamber music hall in Belgrave Square.
George Enescu is widely regarded as the greatest Romanian composer in history. He was also a great concert violinist, a fascinating teacher (Yehudi Menuhin was his most famous student), a conductor of depth and subtlety, an esteemed musicologist and a tireless organizer who took on spectacular tasks such as forming a Philharmonic Orchestra and a Composers' Society in Romania.
Musicologist Pascal Bentoiu about Enescu (Microsoft Word file, 65 KB)
George Enescu - short biography (Microsoft Word file, 611 KB)
George Enescu - His life and music, a book by Noel Malcolm.
In order to promote to UK audiences Enescu's outstanding but insufficiently known contribution to world music heritage, the Romanian Cultural Institute set up and became the home of the Enescu Society under the Royal Patronage of HRH Princess Margarita of Romania. The Enescu Society is as an honorary free association of people who share an appreciation of George Enescu's personality and music achievement.
Patron: HRH Princess Margareta of Romania
President: Christian Mandeal, conductor
Executive Director: Dorian Branea, Director Romanian Cultural Institute London
Artistic Director: Remus Azoitei, violinist & violin professor at the Royal Academy of Music
Board members:
Pascal Bentoiu, composer, musicologist & Enescu historian
Serban Cantacuzino, architect
Evan Dickerson, music critic
Christopher Eimer, historian and art critic
Sherban Lupu, violinist, professor at the University of Illinois (USA)
Noel Malcolm, historian and writer
Gabriela Massaci, cultural diplomat, founding director Enescu Society
Andrew Popper, banker
The Society organizes a programme of concerts, offer scholarships, promote and support the printing of Enescu music scores, books and articles about the composer.
The Enescu Society opened in the presence of HRH Princess Margarita of Romania, HSH Prince Radu of Hohenzollern-Veringen, Mr Anton Niculescu, State Secretary, Romanian Ministry of Foreign Affairs, and Mr Horia-Roman Patapievici, President of the Romanian Cultural Institute.
On this occasion, acclaimed musicians Remus Azoitei (violin) and Eduard Stan (piano) gave a chamber concert of Enescu music, and launched and signed the first CD of the Entire Repertoire for Violin and Piano by Enescu, a world premiere project.