The Comic Genius of Romanian literature, I L Caragiale, performed in London
19/11/2012 @ Cadogan Hall, 5 Sloane Terrace, London, SW1X 9DQ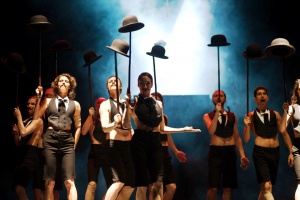 The greatest Romanian playwright of all time, Ion Luca Caragiale (1852 – 1912), is celebrated in London with a humorous and enlightening dance show by critically acclaimed choreographer Gigi Căciuleanu, who takes a fresh look, through physical movement and music, at Caragiale's accomplished writing.
The event is organised by the Romanian Ministry of Culture and National Patrimony, under the patronage of Minister Puiu Haşotti, as part of the Caragiale Centenary Festival, and is supported by the Embassy of Romania to the United Kingdom and the Romanian Cultural Institute in London.
The show, entitled "Ta Ra Ta Tam", brings to life Caragiale's comic archetypes - Mitică, Ziţa, Caţavencu – and recreates, with naturalistic fervour, an absurd, but utterly hilarious world.
Director and choreographer Gigi Căciuleanu says: "The show revisits Caragiale's work from a contemporary viewpoint, when Ionesco's absurd seems to have become common logic. A performance in which I aim at exploring our day-to-day world, packed with our everyday stuff, not only Romanian, but universally human. How exposed we feel, lost in the stormy night of those crushing nothings of the daily carnival".
"Ta Ra Ta Tam" is starring a team of consummate Romanian dancers: Ramona Bărbulescu, Rasmina Călbăjos, Alexandru Călin, Lari Giorgescu, Ştefan Lupu, Ioana Macarie, Ioana Marchidan, Cristian Nanculescu, Adrian Nour, Vanda Ştefănescu, István Téglás, Arcadie Rusu, and has an original sound score edited by Lucian Stan and Marius Marchidan.
Ion Luca Caragiale (1852-1912) was a Romanian playwright, short story writer, poet, theatre manager, political commentator and journalist. He is considered the greatest Romanian playwright, a leading representative of local humour, and a main representative of the influential literary society Junimea. Caragiale's work, spanning four decades, builds on an original synthesis of foreign and local influences. His plays constituted an important venue for criticism of late 19th-century Romanian society, while in later works of fiction Caragiale adopted the fantasy genre or turned to historical fiction.
The London performance is presented under the patronage of HE Dr Ion Jinga, Ambassador of Romania to the UK.
Watch the teaser trailer here.
When: Monday, 19 November, 7:30 pm
Where: Cadogan Hall, 5 Sloane Terrace, London, SW1X 9DQ
Tickets: £15, £10 and £7 at 020 7730 4500 or you book on-line here.