The Dangerous Art of Voiceover: Irina Margareta Nistor in London
11 - 13/11/2016 @ RCI London, ICA and Close-up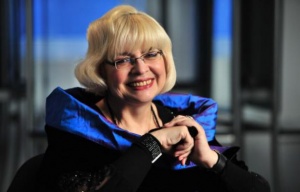 We are excited to welcome to London the most famous voice of Communist cinephilia! Translator, film critic and journalist Irina Margareta Nistor, "the voice that brought Hollywood films to Communist Romania's TV screens", is the protagonist of a series of events that celebrate a most unique career.
11 Nov 2016, 7:00pm | Romanian Cultural Institute, 1 Belgrave Square, SW1X 8PH, London
Screening: Chuck Norris vs Communism
Followed by Q&A with Irina-Margareta Nistor
"In 1980s Communist Romania, subversion of the government's ideological censorship was quietly underway via the black-market import of thousands of Hollywood films. An underground VHS smuggling operation was secretly giving ordinary people a glimpse into life beyond the Iron Curtain: a world of fearless action stars Chuck Norris and Jean-Claude Van Damme. Responsible for this videotheque resistance were a wealthy opportunistic hustler and an intrepid female translator, determined to bring the power of cinema to the people". (Edinburgh International Film Festival)
Director and Scriptwriter: Ilinca Călugăreanu
Cast: Irina Margareta Nistor, Ana Maria Moldovan, Dan Chiorean, Valentin Oncu
Producers: Mara Adina, Brett Ratner

"A warmhearted glimpse into an improbable realm of resistance". - Screen International
"A winning debut doc celebrating Hollywood's cultural impact". - Hollywood Reporter
"Stylish, breezily entertaining documentary..."- Variety

Free entry. Please book your seat here.
----------------------------------------------------------------------------------------------------------------------------------
12 Nov 2016, 4:00pm | ICA (Institute of Contemporary Arts), The Mall, SW1Y 5AH, London
Screening & Discussion: VHS in Off-World / Film Dubbing as Subversion
Between 1984-89 in the apartments of tower blocks in Bucharest, capital of a sequestered Communist Romania, thousands of pirated videocassettes of forbidden films from the West were screened illegally. The disorientating foreignness of these technicoloured, ideology-busting films were tempered by the voice of Irina Margareta Nistor, who frequently skirted exposure and arrest by Nicolae Ceaușescu's dreaded Securitate whilst defiantly translating and dubbing the films into Romanian.
In this unique event, Irina Margareta Nistor joins curator/serial digressionist David Ellis for audio-visual essays and a discussion of forbidden culture, incorporating the screening of original VHS material, illustrative slides, plus "live" dubbing and a Q&A in a homage to this lesser-known heroine of cinema.
They will be accompanied by musician and curator of the Audio X-Ray Project Stephen Coates, who will be introducing his new book 'The Strange Story of Soviet Music On The Bone', a glimpse into the world of the unique bootleg recordings of forbidden music made during the Cold War era in Russia.
Tickets: £7.00 to £11.00 from https://www.ica.org.uk/whats-on/vhs-off-world-film-dubbing-subversion
------------------------------------------------------------------------------------------------------------------------------------
13 Nov 2016, 6:00pm | Close-Up Film Centre, 97 Sclater Street, E1 6HR, London
Screening & Discussion: VHS in Off-World / Film Dubbing as Subversion
Irina Margareta Nistor joins curator David Ellis in an event organised in collaboration with OM, the Romanian Urban Collective Memory Archive, for a visual essay & talk on forbidden culture, including the screening of original VHS material, live dubbing and a Q&A session.
Tickets: £10 / £8 conc. / £6 Close-Up members from https://www.closeupfilmcentre.com/film_programmes/2016/vhs-in-off-world-film-dubbing-as-subversion/
Irina Margareta Nistor worked as a translator of TV programmes in Romania under the Communist regime, and is known for secretly dubbing over 3,000 banned film titles on VHS tapes smuggled in from the West. During the time of the Cold War, these tapes quickly spread throughout the country, and her voice became instantly recognisable for millions of Romanians. In a recent New York Times video about Nistor, one of the interviewees observes: "We did start to wonder why all the films were dubbed by the same voice… (Nistor's) is the most well-known voice in Romania after Ceaușescu's..."
Irina Nistor worked for The Romanian Television from 1980 until 1999, first as a film translator, then as a producer. She remains active within the Romanian film industry. In 2012, she launched the Psychoanalytic Film Festival, as the Romanian extension of the European Psychoanalytic Film Festival presided by Italian director Bernardo Bertolucci.