The Crime Season at the Romanian Cinematheque Continues with 'The Rage', A High-Octane Thriller from Director Radu Muntean
23/04/2015 @ 1 Belgrave Square, London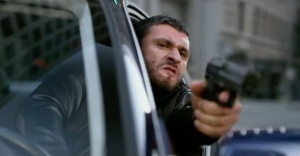 As Britain negotiates the fog and mist of spring, our Crime Season continues with another high-octane thriller, directed by versatile auteur Radu Muntean and starring Dragoș Bucur, the fetish leading man of the Romanian New Wave.
"Furia"/ 'The Rage' marks Muntean's exciting transition from advertising and shorts to feature-length productions. Skilfully employing themes and symbols of American gangster movie, the film depicts the dangerous, violent underworld of contemporary Romania through the story of three friends caught in a bloody intrigue with the local mob. Radu Muntean explained in an interview that he didn't wish to make a social film, but to introduce the audience to the violent side of the current society, using black humour to smoothen the gloomy atmosphere.
'A largely atypical work of the Romanian New Wave, Muntean's highly accomplished debut feature recalls the early films of Quentin Tarantino in its energetic mix of genre conventions, nimble juggling of disparate tones, memorably offbeat characters, and unexpected plot detours'. - Film Society Lincoln Center
Romania 2002/ 83 min/ Produced by: Imaginator Film, Media Pro Pictures
In Romanian with English subtitles
Director: Radu Muntean
Producers: Andrei Boncea, Dragoş Vilcu
Screenplay: Mircea Stăiculescu, Radu Muntean, Ileana Constantin
Director of Photography: Vivi Drăgan Vasile
Music: Vlaicu Golcea, Cristian Stefanescu (Electric Brother)
Costumes: Dana Istrate

Cast
Luca: Dragoş Bucur
Mona: Dorina Chiriac
Felie: Andi Vasluianu
Gabonu: Adrian Tuli
Adrian Simionescu: Adrian Simionescu
Parse: Eduard Andreianu
Suca: Bogdan Uritescu

Crocoi: Alin Marcu
Special thanks to Radu Muntean and CNC (the National Centre for Cinematography) for this screening.
About the director:
Radu Muntean graduated in Film Directing at the Film and Drama Academy in Bucharest. He directed more than 400 commercials since 1996, winning more than forty awards at various national and international film festivals.
Muntean is a prominent member of the new charge of Romanian filmmakers who have revolutionised Romanian cinema over the past decade. As with many of his contemporaries, he's known for using a restrained, clear-eyed visual style to tear open troubling undercurrents. Since his little-seen first feature, 'The Rage' (2003), he has become the well-regarded director of 'The Paper Will Be Blue' (set on the final night of the Romania Revolution in 1989), 'Boogie' and 'Tuesday, After Christmas', a hit of both the Cannes and New York Film Festivals in 2010.
When: Thursday 23 April, 7pm.
Where: Romanian Cultural Institute, 1 Belgrave Square, London SW1X8PH
Admission is free and the seats are allocated on a first come, first served basis. Please confirm your attendance at eventbrite.