The Christmas Gift @ In Short, Europe
07 - 16/05/2021 @ online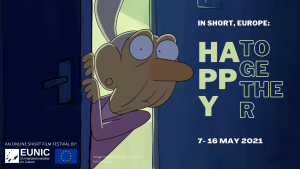 Award-winning short film "The Christmas Gift" directed by Bogdan Mureșanu will feature in the festival "In Short, Europe", taking place online from 7 to 16 May 2021.
This edition, themed Happy Together, is organised in three strands: Hope, Magic and Life's Little Disappointments and invites us to look at the bright side, embrace moments of joy, lift our spirits and dares us to dream. The programme has been curated by Shira MacLeod, film curator and former Cinema Director at the Regent Street Cinema and Riverside Studios Cinema.
The short film festival was initiated by the Romanian Cultural Institute in London, in January 2020, and is organised by EUNIC London in collaboration with the Delegation of the European Union to the UK.
The Christmas Gift / Cadoul de Crăciun | 2018 | Romania, Spain | 23mins
Cast: Adrian Văncică, Ioana Flora
On the 20th December 1989, a few days after Ceausescu's bloody repression in Timisoara, a father's quiet evening turns to sheer ordeal when he finds out that his son's wish letter to Santa is not just about presents.
Winner of the European Film Awards, Grand Prix at Clermont-Ferrand International Short Film Festival and Gopo Awards among others.

Discover the full festival programme at europe.org.uk/project/in-short-europe-happy-together.
To access the festival Vimeo showcase please click HERE and follow the instructions below:
• Choose the film you wish to watch and click the £1 rent button
• In the purchase window that appears, click "Apply promo code"
• Enter the code Together21 to get it for FREE
• Click the "Apply" button. The purchase window will then update to rent for free.
Please note:
You need to have a vimeo account in order to be able to watch the films.
All films are available to watch for 10 days ONLY (7 May – 16 May ) within the UK.
All films with dialogue have English subtitles.
Live events:
Director Bogdan Mureșanu will take part in a live Q&A with other filmmakers featured in the festival, on 11 May 2021 at 7pm. Info and registration here.