The Chilingirian String Quartet concludes with brio the popular 2011-212 Enescu Series
07/06/2012 @ Romanian Cultural Institute, 1 Belgrave Square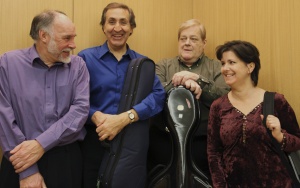 The final recital of the 2011-2012 Enescu Concert Series features the reputed British string quartet Chilingirian that has recently added Enescu scores to their repertoire. Join us to discover Enescu's music as never heard before.
Programme
Haydn String Quartet Op. 76, No.5
Enescu String Quartet No.2
Brahms String Quartet Op. 51, No.2 in A minor
The Chilingirian String Quartet are:
Levon Chilingirian – violin
Ronald Birks – violin
Susie Mészáros – viola
Philip De Groote – cello
For nearly four decades, the Chilingirian String Quartet has thrilled critics and audiences around the world with its vibrant, virtuosic performances of classical and contemporary chamber music. Their sound is both powerful and precise; richly interpretive and yet always true to the composer's vision. Today, the quartet continues to build on its legacy with an energetic touring schedule, an ever- expanding repertoire, and a series of acclaimed recordings for the Hyperion and Chandos labels.
The Quartet has built an extensive and critically-acclaimed discography of works by Mozart, Haydn, Beethoven, Schubert, Bartok, Dvorak, and other major composers. And, it released groundbreaking recordings of masterworks by contemporary composers such as Michael Tippett, John Tavener, Hugh Wood, and Michael Berkeley. The Chilingirians have also appeared extensively on TV and radio programs around the world, including an ongoing series of broadcasts for the BBC.
The Enescu Concerts Series, jointly organized by the Romanian Cultural Institute in London and the Enescu Society, was established in 2007 under the Royal Patronage of HRH Princess Margarita of Romania. The concerts take place in the Institute's chamber music hall every first Thursday of each month from October to June (July). The Series has attracted a wide array of outstanding musicians and ensembles who have managed to give some of the most memorable Enescu performances ever.
Every year since September 2011, the Romanian Cultural Institute awards the Enescu Scholarship to outstanding students of the Royal Academy of Music and Guildhall School of Music and Drama.
When: Thursday, 7 June 2012, 7pm
Where: Romanian Cultural Institute, London
Admission is free, but places are limited. Early booking is well recommended.
Please reserve your seats at T: 020 7752 0134, E: office@icr-london.co.uk.
Latecomers will be admitted at the interval.