The Centenary Celebration at the 'Enescu Concerts' Series Continues with 'Music in Greater Romania (1918-1940)'
05/04/2018 @ Romanian Cultural Institute, 1 Belgrave Square, London SW1X8PH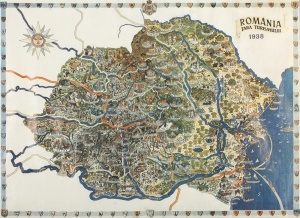 As part of our special programme celebrating the Romanian Centenary (1918-2018), our popular 'Enescu Concerts' Series looks back, after a soirée dedicated to compositions of the First World War, to the amazing musical tradition of interwar Romania, a cultural 'Golden Age' in many respects. Violinist Simina Croitoru and pianist Alexandru Burcă, two performers of impressive ability, will present an (almost) all-Romanian programme full of musical gems, some of them UK premieres, by Constantin C. Nottara, Mircea Chiriac, Paul Constantinescu, Mihail Jora, Bela Bartok and, of course, George Enescu. Musicologist Oltea Şerban-Pârâu contributes with a talk about the epoch and its music.
Violinist Simina Croitoru played her first concerto at the prestigious stage of the Romanian Radio Hall when she was 8 years old under the baton of Mădălin Voicu. Since her debut, in 1998, she has played numerous concertos and chamber music concerts. She has appeared on stage for more than 200 times in Romania, Germany, Italy, France, China and South America. Simina Croitoru already won many accolades at important national and international competitions such as 'George Georgescu' International Contest, 'Remember Enescu' and 'Paul Constantinescu' National Competitions or 'Citta di Stresa' and 'Jeunesses Musicales' International Competitions. Currently, in addition to her busy concerts schedule, Simina is a Ph.D. student at the National University of Music Bucharest where she is also a assistant lecturer.
Young pianist Alexandru Burcă graduated from the National University of Music Bucharest where he studied with renowned professors Viniciu Moroianu, Șeluța Radu, Verona Maier and Galina Petrenky. He collaborated with prestigious conductors like Cristian Brâncuși, Daniel Jinga, Tamás Bolba, Ciprian Teodoraşcu or Martin Bredin and played with Romanian Radio Orchestra and the 'George Enescu' Philharmonic in Bucharest. Together with tenor Vlad Miriţă, Alexandru Burcă runs a very successful project dedicated to interwar pop music.
When: Thursday, 5 April 2018, 19:00
Where: Romanian Cultural Institute, 1 Belgrave Square, London SW1X 8PH
Entrance is free but we kindly request you to book your ticket HERE.
Please note that seating is unreserved.