''The Book of Perilous Dishes'': Doina Ruști and RCI London Are Cooking Some Magic
06/04/2022 @ Romanian Cultural Institute in London, 1 Belgrave Square, SW1X8PH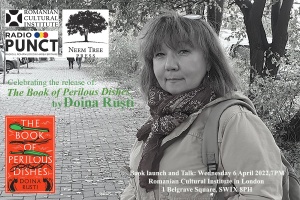 One of the most acclaimed Romanian authors, Doina Ruști, will join us on the 6th of April, for a grand evening celebrating the release of her book ''The Book of Perilous Dishes'', translated by professor James Ch Brown and published by Neem Tree Press with the support of the Romanian Cultural Institute's Translation and Publication Support program.
''The Book of Perilous Dishes'' | Book launch and Talk | Wednesday, 6 April, 2022, 7 PM| RCI London
Doina Ruști will be joined by Archna Sharma (Neem Tree Press), Daniela Dima Riain, translator and interpreter and Roxana Dumitrache (RCI London).
Doina Ruști is an outstanding and prolific Romanian writer, author of (amongst others) the Phanariot trilogy preceded by two other successful novels, with a strong social message: Fantoma din moară (2008) and Lizoanca (2009). She commissions and edits the Contemporary Prose section of the LITERA Publishing House, Bucharest and is a highly respected publisher. Her own writing has won praise internationally and been translated into 15 languages, the latest: Printre cele mai recente traduceri se numără ediția a doua a romanului L'omino rosso (2021, Roma) and Zogru (2022, Marseille). Doina Ruști was also our special guest at Romanian Rocks Festival, 2021, in a conversation with the renowned author Tracy Chevalier chaired by Rosie Goldsmith, writer, journalist and director of European Literature Network.
Publisher's Synopsis:
1798 Bucharest: A magical, dark adventure A year full of intrigue and political machinations: a slave-chef lives in Bucharest, sought after by everyone. His cooking is sublime, satisfying even the sophisticated tastes of the Prince, who steals him from his rightful owner and installs him in the Palace. However, no one knows that the chef has in his possession a witch's recipe book: the Book of Perilous Dishes. The recipes in this magical book can bring about damaging sincerity, forgetfulness, the gift of prediction, or hysterical laughter. And the rightful owner of this book is fourteen-year-old Pâtca, initiated in the occult arts. Pâtca comes to Bucharest, to her uncle, Cuviosu Zaval, to recover this book, but she finds him murdered and the Book of Perilous Dishes has disappeared without trace. All that Zaval has left her is a strange map she must decipher. Travelling from Romania to France and on to Germany to do so, Pâtca's family's true past and powers are revealed, as is her connection to Silica the cook...
Neem Tree Press is a vibrant, independent publishing house producing books that change and broaden perspectives, recent recipients of a prestigious English PEN grant, a literary award for an upcoming work in translation, and their books have been featured in Harper's Bazaar, Vogue, on BBC Radio, and at the Smithsonian Design Museum in New York City.
When: Wednesday, 6 April, 2022, 7 PM
Where: RCI London, 1 Belgrave Square SW1X 8PH, London
Entrance is free but we kindly request you to book your ticket on Eventbrite. Please note that seating is unreserved