The Body Adorned: Folk Romanian Costume, Inspired by Queen Maria's Style, Exhibited in London
24/03/2012 @ Horniman Museum and Gardens, 100 London Road, Forest Hill, London, SE23 3PQ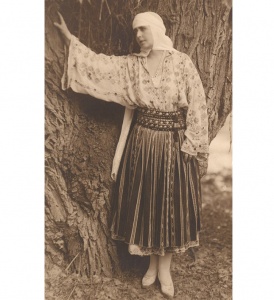 One of the attractions of the The Body Adorned: Dressing London Exhibition at the Horniman Museum is a superb Romanian traditional costume, with a lavish pattern favoured by the rich peasant families at the beginning of the 20th century. The Queen Maria of Romania herself used to wear similar costumes at some public events, as a sign of her attachment to her adopted country.
The Body Adorned: Dressing London exhibition reveals how a diverse population clothe and adorn their bodies to find their place in the metropolis. Over time, saris, tattoo parlours, nail bars, distended ears and scarification have become a visible, everyday part of the London cityscape. But how did cultural adornments become integrated into urban London life? The exhibition considers how the movement of people, objects and ideas influenced London dress in the past and explores body adornment in today's world city of London.
Starting with April 2012, the Horniman Museum will launch a display of over 60 uniqely decorated Easter eggs, as part of the museum's Object in Focus series. The special temporary display will be accompanied by two sessions of craftswomen-led workshops on Romanian Painted Eggs.
The Horniman Museum has an outstandingly rich collection of about 800 Romanian costumes, objects and archive photos, which will form the basis of another exhibition in 2014.
When: 24 March 2012-06 January 2013
Where: Temporary Exhibition Space, Horniman Museum. Free entry.