The Beheaded Rooster @ Romanian Cinematheque
27/09/2012 @ Romanian Cultural Institute, 1 Belgrave Square, SW1X 8PH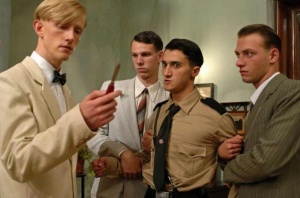 Romanian Cinematheque continues its series of cinematic landmarks with The Beheaded Rooster (2007), a moving coming of age story set against the tragic backdrop of the WWII.
The film narrates the impossible love between a young German from Transylvania and a Jewish girl. The story is placed in a multi-cultural world, which is destroyed by radicalism and war. The film is one of the few incursions in the troubled history of Romanian Germans, a community torn apart by conflicting allegiances and agonizing political choices.
One of Romania's leading veteran filmmakers, Radu Gabrea's four-decade career spans more than 20 features and documentaries, many of whom have examined Romania's Communist history and the political and social challenges faced by Jewish culture in central Europe.
Watch the trailer here.
Romania | 2007 | 98min | director: Radu Gabrea | cast: David Zimmerschied, Alicja Bachleda, Werner Prinz, Florian Brückner, Marion Mitterhammer, Victoria Cocias. In German and Romanian with English subtitles.
The Romanian Cinematheque project is realized in partnership with the National Centre for Cinematography in Romania (CNC).
When: 27 September, 7 pm.
Where: Romanian Cultural Institute London
Admission is free but seats are limited. Early booking is well recommended. Please reserve your seats at T: 020 7752 0134, E: office@icr-london.co.uk.