The Beauty and the Books
20 - 22/05/2016 @ Tate Modern – Turbine Hall, Bankside, London SE1 9TG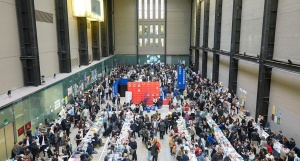 Some of the most beautiful contemporary Romanian books will be on display at the Tate Modern as part of Offprint London, the biggest art publishing fair in Britain. In the second half of May, the famous modernist landmark hosts, in its vast Turbine Hall, an entire library of exquisite publications, which gives testimony to the thriving art of superior typography and book design well into the internet age.
The Romanian exhibition of art and photography books, curated by P U N C H Bucharest and supported by the Romanian Cultural Institute in London, will feature books published by Asociaţia Peplus4 (coordinated by art historian and curator Alina Șerban), Asociaţia pentru Artă Ilfoveanu, Salonul de Proiecte and Revista Arta.
P U N C H is a specialist bookshop with thematic focus on theory and contemporary practices in art, architecture, design and connected fields. The initiative, based in Bucharest, also works as a distribution platform for small publishers, artists, organisations and institutions from the South-East European region (and beyond) who want to reach a wider audience. P U N C H also acts as a platform for presentations, workshops and publishing.
Offprint Projects is a traveling art publishing fair featuring discerning projects across a wide range of media. Now in its second year, the London fair includes books, zines, vinyls, posters, prints, websites, magazines, and blogs from over 140 participants in the fields of contemporary art, graphic design, literature, poetry, philosophy, and experimental music. In collaboration with Tate Modern and curator Simon Baker, Offprint London 2015 dedicated a special space for photobooks, inviting 70 independent photobook publishers from all over the world. Acknowledging a dissolving effect of traditional sites and media (museums / books / schools) and their respective activities (curating / publishing / teaching), Offprint showcases an alliance between printed strategies and digital cultures within the art world, presenting concrete examples of the contemporary dissemination of artistic practices.
When: 20-22 May. Admission: free
Where: Tate Modern – Turbine Hall, Bankside, London SE1 9TG