The Annual Salon of UK-based Romanian Artists
28/09 - 16/10/2017 @ Romanian Cultural Institute London, 1 Belgrave Square, SW1X 8PH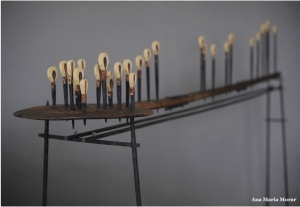 The third edition of our 'Annual Salon of UK-based Romanian Artists' showcases the vibrancy and formal diversity of an ambitious creative medley: Alexandra Larion, Călina Lefter, Ana Maria Morar, Doina Moss and Adeline Timiş.
Alexandra Larion is a Romanian artist living in London. After having pursued a Bachelor's Degree in Plastic Arts at the Art and Design University of Cluj-Napoca, she did a Master's at the Krakow Academy of Fine Arts. Alexandra is currently collaborating with the IAGA Contemporary Art Gallery from Cluj-Napoca. The artist exhibited her works in various international exhibitions such as 'Just Beneath the Skin: Investigations and Revelations' (Poland, 2016), 'Identities' (2016, Bucharest), Parallax Art Fair (London, 2017). Currently Alexandra is studying Graphics at the Westminster University in London. More about Alexandra Larion on the artist's page.
Călina Lefter was born in the Republic of Moldova. She finished her studies in 2002, at the Nicolae Grigorescu University of Arts in Bucharest, and straight after her graduation, Călina became member of the Romanian Artists' Union. The artist moved to Milan in 2008, exhibiting her pieces in different Italian galleries. Some of the highlights in her career are: 'Expo Milano' (2015), 'Affordable Art Fair' (2013), 'After East' (2010). At present, she is living in London, where she is exhibiting at different galleries. More about Călina Lefter on the artist's page.
Ana Maria Morar graduated from the Babeş-Bolyai University of Cluj-Napoca, where she studied communication and public relations. She later moved to the USA, where she got into the arts. Ana-Maria studied sculpture with Leonid Lerman at the Art Students League in New York, and is a candidate in the MFA sculpture programme at the NYSS (The New York Studio School of Drawing, Painting and Sculpture), under a Jane Chace Carroll Scholarship. She was the recipient of a Marion R. Netter Merit Scholarship in 2015 and, since then, her works have won awards every year at The Phyllis Harriman Mason Gallery, New York. More about Ana Maria Morar on the artist's page.
Doina Moss is an alumna of the Ion Mincu University of Architecture and Urbanism (Bucharest) as well as Architectural Association, Westminster University (London), and Sotheby's Institute of Art (London). In 1987, Doina Moss moved to Great Britain and upon completion of studies, became a member of the Royal Institute of British Architects and a Fellow of the RSA. Doina's artist debut took place at the RA Salon Des Refuses 2017, where she was sold out at the preview evening. The artist has participated in several group exhibitions, killing two birds with one stone - her passion for architecture and that for visual arts. The national television in Romania realized a documentary about her achievements. More about Doina Moss on the artist's page.
Adeline Timiș studied traditional graphics at the Art and Design University of Cluj-Napoca, where she focused on engraving and drawing techniques. In September 2013, the artist moved to Luton (Great Britain), and went for a study programme at the University of Bedfordshire. Adeline Timiș displayed her works at the International Impressionist Paintings Exhibition from Vaserului Valley (Romania, 2013), as part of a group exhibition at the University of Bedfordshire (Great Britain, 2015), and Yellow Dots (Great Britain 2016). More about Adeline Timiş on the artist's page.
When: Preview - Thursday 28 September, 7pm. Free entry. Booking on Eventbrite is necessary for attending the Preview.
The exhibition is open until 20 October, Mon-Fri, 10 am - 5 pm.
Where: The Romanian Cultural Institute, 1 Belgrave Square, London SW1X8PH