The Alluring Harmony of Piano Duos at St Martin-in-the-Fields
07/01/2014 @ St. Martin-in-the-Fields, Trafalgar Square, London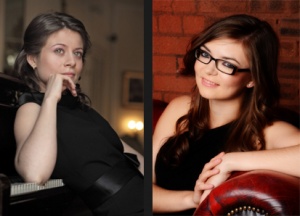 We greet the New Year with a recital celebrating the beauty and richness of piano duos, in the company of Ruxandra Humă and Ana-Maria Andriţoiu. The musicians will delight the audience with a fresh and original interpretation of works signed by two great composers of the Classical and Romantic era –Mozart and Schubert.
Programme:
Wolfgang Amadeus Mozart - "Sonata in C Major"
Franz Schubert – "Fantasia in F minor"
Ruxandra Humă's love of music and the piano began to flourish during her years at the "Octav Băncilă" College of Arts in Iaşi, Romania. Having moved to Britain at the age of fourteen, she continued her education with a scholarship from Southampton City Council, which gave her the chance to study the piano at Peter Symonds College in Winchester. During this time, Ruxandra won many awards at music festivals such as the Southampton Music Festival, Basingstoke Music Festival and North London Festival. She has performed extensively in her native Romania but also in Britain, in prestigious venues such as the Wales Millennium Centre, Turner Sims Hall and Wyastone Concert Hall. In 2004, Ruxandra was awarded a scholarship to study a Bachelor of Music Degree with Professor Richard McMahon at the Royal Welsh College of Music and Drama in Cardiff, and she later went on to be awarded a Distinction for her Master of Music degree in piano performance from the Trinity Laban Conservatoire of Music and Dance. The pianist now lives and works in London where she is the General Manager of the Philharmonic Chamber Orchestra of London.
Ana-Maria Andriţoiu is a graduate of the Birmingham Conservatoire, where she was a recipient of the McQueen Bursary and the BSCMF Award. She has recently gained her MMus studying with Philip Fowke at Trinity Laban Conservatoire of Music and Dance, and has performed in master classes given by distinguished pianists such as Mikhail Kazakevich, Simon Nicholls, Robert Markham and Eugene Asti. Ana-Maria has been invited to perform as a solo artist in concerts, festivals and recitals held in notable venues such as the Adrian Boult Hall in Birmingham and Turner Sims Hall in Southampton, and the Athenaeum and the National Opera House, as well as the "George Enescu" Festival in Bucharest. She has taken part in all-piano ensembles premiering new and exciting works by contemporary composers for recordings and radio broadcasts, and she also enjoys to perform with vocalists and instrumentalists in several chamber music groups. The most recent of these has been performing in a critically-acclaimed production that has toured both the Buxton and the Edinburgh Festivals.
When: Tuesday, 7 January, 1pm
Where: St Martin-in-the-Fields, Trafalgar Square, London.
This lunchtime concert is free and no ticket is required.