"The ABBA of Classical Music" @ the Mill Hill Music Club
25/03/2012 @ Mill Hill Music Club, One Hollies End, Mill Hill Village NW7 2RY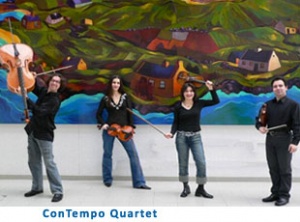 The Exuberant Contempo String Quartet will bring its unique and eclectic interpreting style to the stage of the Mill Hill Music Club. Alongside them, you will find Dermot Dunne, a versatile and accomplished accordion player who is a frequent prize winner, both at home in Dublin and abroad.
Programme:
Schubert - String Quartet No. 14 Death and the Maiden
Astor Piazzolla - Grand Tango
Astor Piazzolla - Six Argentinian Tangos for Accordion Quintet
After graduating from the National University of Music (Bucharest) and making their debut in 1995, the ConTempo String Quartet (Bogdan Sofei - 1st violin, Ingrid Nicola - 2nd violin, Andreea Banciu - viola & Adrian Mantu – cello) soon gained world recognition. They are record winners of 14 international prizes, with more than 1200 concerts all over the world, in front of great personalities such us Pope John Paul II, Nelson Mandela, Prince Charles, Nobel Prize winners and Hollywood stars. They performed on internationally renowned stages, including Carnegie Hall in New York, Wigmore Hall in London, Théâtre du Châtelet in Paris, The Philharmonic Hall in Berlin, and they have worked with some of the most famous quartets in the world: Amadeus, Alban Berg, Hagen, Tokyo & Emerson. Since 2003, they have been Galway Ensemble-in-Residence on the Western Coast of Ireland, embarking on a unique project whose highlights are: concerts and collaborations with musicians throughout Ireland, the annual ConTempo Summer Festival and the educational programme in County Galway schools.
Their musical repertoire encompasses the Classical and Romantic eras (Haydn, Mozart, Beethoven, Brahms, Schubert, Schumann, Dvořák, Puccini), as well as the 20th century (Elgar, Zemlinsky, Eisler, Bartok, Hindemith, Enescu, Shostakovich, Ligeti). Their pop repertoire includes South American tangos, songs of the Beatles, rock and jazz, while their collaborations with traditional musicians include original music by Maírtín O'Connor and folk music from Romania and Ireland, in arrangements by Garry O' Bríain.
"Polished and professional group… The Mozart was given a delightfully skittish reading, full of exuberance and with a fine sense of ensemble… real sensitivity… exceptional performance."
The Strad/(Wigmore Hall Debut)
Founded in 1955, Mill Hill Music Club is well-known as one of the main attractions in London's overwhelming musical world. Among the artists who stepped on its stage we need to mention Istrael Piano Trio, Chilingirian Quartet, Mitsuko Uchida, Artur Pizarro, Smetana Trio and the ConTempo String Quartet.

When: Sun 25 March 2012 @ 7.30pm
Where: Mill Hill Music Club, The Hall, The Henrietta Barnett School, Hampstead Garden Suburb, London, NW11 7BN
Tickets: £15 from http://www.millhillmusicclub.co.uk/boxoffice.htm