Tapinarii (The Wood Cutters) @ Romanian Cinematheque. Followed by Q&A with director Ioan Carmazan
16/05/2013 @ ICR London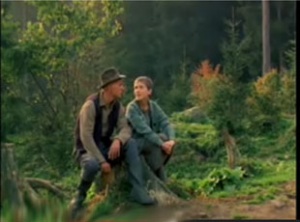 The Romanian Cinematheque presents in May a gripping film about a group of foresters who have to live in the mountains far from their families: The Wood Cutters (Tapinarii), directed by Ioan Cărmăzan.
The Wood Cutters is Ioan Carmazan's debut feature, a film that puts forward the director's tendency towards what the film critic Tudor Caranfil called a "magical surrealism". Following the austere life of wood cutters, the director explores life, death, love and the loneliness of human destiny when it is closely intertwined with nature. Just like the implacable laws of the environment they inhabit, the existence of this group is marked by universal rituals - like that of the wedding or death - as well as particular ones, such as hunting. All these traditional aspects of living in the mountains are threatened by modernity, which these people are trying to resist unmoved, just like they do in front of the challenges posed by the nature surrounding them.
+++++++++++++++++++++++++++++++++++++++++++++++++++++++++++++++++++++++++++++++++
Romania, 1982, 90 min, director: Ioan Cărmăzan, with: Remus Margineanu, Mariana Buruiana, Serban Ionescu, Ion Sasaran.
In Romanian, with English subtitles.
The Romanian Cinematheque is a project in partnership with the National Centre for Cinematography in Romania (CNC). This screening is also supported by UARF – Uniunea Autorilor si Realizatorilor de Film din Romania.
When: Thursday, May 16, 7pm.
Where: Romanian Cultural Institute London
Admission is free but seats are limited. Early booking is well recommended. Please reserve your seats at T: 020 7752 0134, E: office@icr-london.co.uk.