Award-winning artist Mircea Cantor talks about his work
10/12/2011 @ The Hepworth Wakefield, Gallery Walk, Wakefield WF1 5AW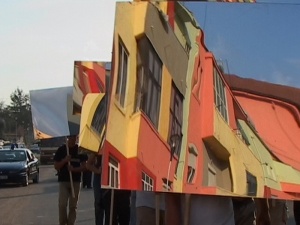 Romanian artist Mircea Cantor, the winner of Marcel Duchamp Prize 2011, will discuss his work and practice at the Hepworth Wakefield, with support from the Romanian Cultural Institute in London.
The event is organised in collaboration with Pavilion Leeds, as part of a series of talks with three exceptional contemporary artists: Lucy Skaer, Stephen Sutcliffe and Mircea Cantor.
Mircea Cantor (born 1977) makes films and sculptural installations that often elaborate on uncertainty and the end of transparency in art; countering the prevailing expectation that everything can be known or predicted. His works offer a subtle and poignant commentary on the inherent contradictions of globalization and the resultant erosion and reinforcement of cultural boundaries and traditions.
Cantor's work is included in The Museum of Modern Art, New York; the Walker Art Center, Minneapolis; The Philadelphia Museum of Art, Pennsylvania; Hirshhorn Museum and Sculpture Garden, Washington DC; Centre Pompidou, Paris, France; The Israel Museum, Jerusalem; Museo Nacional Centro de Arte Reina Sofía, Madrid; Kunsthaus Zurich; Museum Abteiberg, Monchengladbach, Germany; Magasin 3, Stockholm, Sweden as well as in other collections worldwide. He was awarded with Ricard Prize in Paris in 2004; in 2011, he won Best Dance Short Film at Tiburon International Film Festival with Tracking Happiness movie. Also in 2011 he is the winner of Marcel Duchamp Prize 2011 in Paris.
When: 10 December, 3 – 5pm
Where: Hepworth Wakefield.