Alexandru Tomescu and Angela Drăghicescu in the 'Enescu Concerts' Series
02/11/2017 @ Romanian Cultural Institute, 1 Belgrave Square, London SW1X 8PH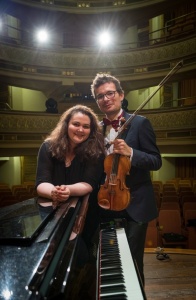 The 2017 programme of our popular 'Enescu Concerts' Series continues with a homage to the unforgettable pianist and composer Dinu Lipatti, 100 years since his birth, offered by charismatic duo Alexandru Tomescu (violin) and Angela Drăghicescu (piano). The peak of the all-Romanian programme, featuring pieces by George Enescu and Tiberiu Olah, is Lipatti's Sonatina for violin and piano, a brilliant piece that demonstrates the tragic musician's outstanding skills as a composer.
With an evocation of Lipatti's life and work by writer and music enthusiast Orlando Murrin.
Programme:
Dinu Lipatti – Sonatina for violin and piano
Tiberiu Olah – Sonatina
George Enescu – Violin Sonata No. 3 in A minor
Alexandru Tomescu has proved himself capable of taming any score, no matter how complicated, as his 'Paganini – angel or demon?' project, a turning point in his career, fully demonstrates. After studies in Switzerland with Tibor Varga and in the U.S. with Eduard Schmieder, Alexandru returned to Romania to undertake a personal mission. Through concerts and lectures, he has strived to demonstrate that classical music is a world open to all people, that it can create social harmony and that everyone deserves the chance to explore it. In parallel to a fruitful career in Europe and the world, filled with successes in halls such as Théâtre des Champs Elysees – Paris, Carnegie Hall – New York or Metropolitan Arts Centre – Tokyo, after appearances with conductors such as Valery Gergiev, Kurt Masur or Christoph Eschenbach, Alexandru has continued to actively spread this message in Romania and elsewhere and to conduct social campaigns on behalf of important cultural causes.
Pianist Angela Drăghicescu has quickly established a reputation as a much sought-after collaborative artist and chamber musician. She performs regularly in major centres throughout the world with many of her generation's most renowned musicians. Her recent engagements have included performances at Carnegie Hall, Kennedy Center, Benaroya Hall, Rudolfinium Prague, as well as many other venues in Europe, the US, and Asia. She has performed with many of today's leading artists including Concertmaster of the New York Philharmonic Frank Huang, Sandy Yamamoto, Virgil Boutellis, and Remus Azoiței, among others. Her doctoral thesis, 'Nicolae Bretan: A Guide to Romanian Art Song' is the first textbook for Romanian diction for singers and has become an invaluable source for non-native speakers wishing to perform Romanian art song. Her mentors include the great pianists Michael Gurt, Josette Hirsu, and Anne Epperson.
Orlando Murrin is a writer and editor who has been fascinated by Dinu Lipatti since his schooldays, and has spent the last year researching the life and career of this great musician, the centenary of whose birth falls on 19 March 2017. His investigations have led him all over Europe and brought him into contact with students, friends and descendants of the pianist and his wife, shedding new light on his family and entourage, as well as the turbulent political background against which his short but brilliant life was played out. Orlando Murrin is the initiator of a successful petition to have the Lipatti family home in Bucharest spared from demolition with the aim that it will be eventually turned into a museum in memory of Lipatti and his music.
When: Thursday, 2 November 2017 from 19:00 to 21:30
Where: Romanian Cultural Institute - 1 Belgrave Square London SW1X 8PH
Entrance is free but it is required to book your ticket on Eventbrite.
Please note that the seating is unreserved.