Summer Ethereal Arpeggios at St Martin-in-the-Fields
20/08/2013 @ St Martin-in-the-Fields, Trafalgar Square, Londra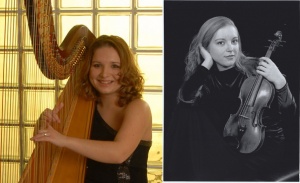 The popular Romanian Cultural Institute Series at St. Martin-in-the-Fields is welcoming acclaimed harpist Paula Popa, who is join by violinist Florica Grigoraş in a rare treat of ethereal scores. The duo will perform timeless works by Ciprian Porumbescu, Luigi Maurizio Tedeschi, Pablo Sarasate, Jules Massenet and Camille Saint-Saens.
Rated among top harp players in the world, Paula Popa is a versatile and experienced harpist. Following her success at several international competitions, she has gone on to perform for HRH the Queen and Duke of Edinburgh, Princess Anne as well as other members of the royal family. Paula has also performed live with Florence and the Machine and Dizzy Rascal at the sold out 2010 Brit Awards Ceremony at the Earls Court Arena. She studied at the Royal College of Music in London and her concerts have taken her to royal venues such as Kensington Palace, St James's Palace, Lambeth Palace, Banqueting House, Spencer House and Windsor Castle. As a soloist she has performed in some of the most prestigious concert halls in London including St James's Piccadilly, St John's Smith Square, Winchester Cathedral, Shakespeare's Globe, Handel House Museum, V&A Museum, the Natural History Museum, the Wallace Collection, Tate Modern, Foundling Museum and the National Gallery.
Florica Grigoraş began the study of violin in her native Romania with the reputed pedagogues Mircea Constantinescu and Stefan Gheorghiu. She finished her studies at the Royal College of Music in London as a recipient of the Queen Elizabeth the Queen Mother Scholarship, Gandar Dower and Myra Hess Awards. Florica had concerts and recitals at St Martin-in-the-Fields, Draper's Hall, Lincoln's Inn, Ledbury Cathedral, Winchester Cathedral, Gulbenkian Room. Following an arm injury, Florica had to stop playing the violin and focus on teaching, thus maintaining a strong link with the music world. After a recent complete recovery, Florica has returned to playing, both solo and together with her friend, harpist Paula Popa.
When: Tuesday, 20 August, 1pm
Where: St Martin-in-the-Fields, Trafalgar Square, London.
This lunchtime concert is free and no ticket is required.