Subjective Portraits: photography exhibition by Alex Galmeanu in Reykjavik
24/09 - 02/10/2011 @ Nordic House, 101 Reykjavik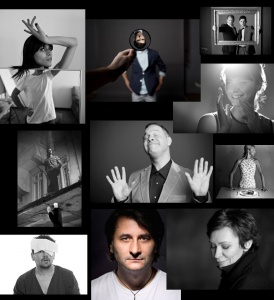 Alex Galmeanu, one of the most celebrated young Romanian photographers, will open Subjective Portraits, his latest exhibition featuring well-known Romanian actors and directors. This special event is part of the Romania in Focus programme @ Reykjavik International Film Festival, alongside a concert and many screenings.
The photographs present some of Romania's film & theatre industry professionals such as: Dorian Boguţă, Mimi Brănescu, Dragos Bucur, Mihai Călin, Tudor Chirilă, Maria Dinulescu, Gheorghe Dinică, Mădălina Ghiţescu, Şerban Ionescu, Paul Ipate, Vlad Ivanov, Marius Manole, Medeea Marinescu, Horaţiu Mălăele, Radu Muntean, Mirela Oprişor, Oana Pellea, Andreea Păduraru, Dorotheea Petre, Florin Piersic Jr, Maria Popistaşu, Cristi Puiu, Victor Rebengiuc, Crina Semciuc, Chris Simion, Alex Leo Şerban, Ana Ularu, Laura Vasiliu, Andi Vasluianu, Iulia Verdeş, Florin & Vlad Zamfirescu.
Subjective Portraits will be hosted by Nordic House, Reykjavik's remarkable cultural centre, designed by acclaimed Finnish modernist architect Alvar Aalto. The opening will take place on 24 September, 4pm, in the presence of Alex Galmeanu.
An artist with a winning combination of superb vision, personal verve and riveting technical brilliance, Alex Galmeanu was born in 1978 in Bucharest. His first pictures were taken in 1992, and since then he has been publishing regularly fashion, portrait and advertising photography. Alex collaborates with several magazines - Harper's Bazaar, Esquire, Elle, Glamour, InStyle - and is involved in advertising campaigns both national and international. Almost all Romanian public figures have walked in front of his camera.
His personal major projects are People I Know – a collection of portraits illustrating remarkable people, Project112 – a project that places art besides domestic violence and Anastasia – one of his first photographic projects about the changes a young girl goes through with the passing of time. More at www.alexgalmeanu.com
After numerous projects in Romania and France, Alex is the first Romanian photographer to exhibit in Iceland.
The exhibition is organised by the Romanian Cultural Institute in London in partnership with Reykjavik International Film Festival and Nordic House.
When: Opening: 24 September, 4pm; The exhibition is open between 24 September - 2 October 2011, Tue-Sun 12-17
Where: Nordic House, Sturlugata 5, 101 Reykjavik, Iceland