Iulia Rugina and her thought-provoking
04/11/2011 @ BAFTA, 195 Piccadilly, London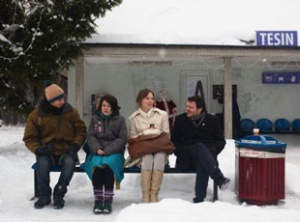 Although it's not Christmas yet, director Iulia Rugina will attend the 2011 European Psychoanalytic Film Festival with her Stuck on Christmas, a film about small gestures, big stories and ordinary people. The screening will be followed by a panel discussion with Iulia Rugina and Helen Taylor Robinson, chaired by Laura Manu.
The festival is organized by the Institute of Psychoanalysis and is talking place between 3-6 November 2011 at BAFTA.
Romania | 2010 | 38 min | dir: Iulia Rugina | cast: Mădălina Ghiţescu, Ozana Oancea, Cristian Popa, Bogdan Dumitrache
Stuck on Christmas tells the story of four characters, who do not know each other and are forced to spend Christmas Eve together in a small provincial train station. They are away from the people and places where they wanted to get for Christmas, waiting for a train which is snowed up many miles away. As the hours pass and the train doesn't seem to come, Madalina, Cristi, Ozana and Alex share with one another absurdity, hope, anger and despair.
Stuck on Christmas represents Iulia's graduation film from the National University of Theatre and Cinematography "IL Caragiale" in Bucharest.
Iulia Rugina won Best Directing Award @ the 33rd Poitiers International Student Film Festival. The young director's films, made during her student years, Hi Cristina! Bye Cristina! and Friday around 11 were awarded at several international film festivals, including those in Oberhausen, Clermont-Ferrand, Cottbus, Munich, Ludwigsburg, Brussels.
In 2009, she made, with the support of the Sarajevo Film Festival, the short film Museum of Broken Relationships. Iulia's scripts were developed during European programs such as Sources 2, Nipkow, European Short Pitch Nisi Masa, ScriptEast. She was also involved in projects for theatre, dance - sound design, in the organization of several film festivals and educational projects.
A thought-provoking Romanian film and an interesting panel discussion: not to be missed!
Friday 4 November 2011, 5.30-7 pm at BAFTA, 195 Piccadilly, London, W1 J9LN.
If you wish to attend, please register on the Festival website (registration fee applicable).