Stoyan Dechev's Event Horizon, represented by Anca Poterașu Gallery at Frieze London, 2021
14/09 - 31/10/2021 @ Regent's Park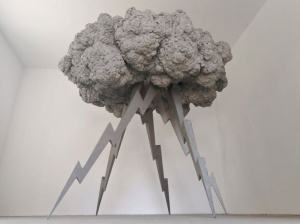 With a formidable selection of artists – from emerging to iconic – and a team of renowned independent curators from all over the world, Frieze London has returned to the English Gardens in The Regent's Park in London and will be opened until 31 October 2021. This edition addresses themes including geopolitical power structures, environmental concern and architecture.
RCI London is delighted to financially support Anca Poterașu Gallery's participation with Stoyan Dechev's Event Horizon, a symbolic representation of cloud of lightning - so recurrent in our culture that it becomes a sign, travelling easily in time due to its simple shape and being associated with different beliefs. From Zeus to Jupiter, from Thor or St. Elijah, is it resurrecting a symbol of space and time, questioning our own perception about reality and truth at the intersection between astronomy and astrology. Dechev's work is curated by Lavinia Freitas.
Stoyan Dechev is an artist who lives and works in Sofia, Bulgaria and Bucharest, Romania. He holds a License, M.A. and Ph.D. from the National Art Academy Sofia in Sculpture. His projects combine sculpture, drawing, installation, animation and video. In an attempt to understand and react to contemporary events, his work often encompasses archeology, history and science. His works are included in important public and private collections:The Leder Art Collection Florida US, Sofia Art Gallery, Bulgaria; Mosan Museum of Art, Republic of Korea; M-tel Sofia, Bulgaria; St. Ciril and Metodies Foundation, Sofia, Bulgaria; Museum of National Academy of Art, Sofia, Bulgaria.
Anca Poterașu Gallery supports artists and their long-term creative process, encouraging experimentation and contextualization of recent art in curatorial programs. Until now, the gallery has created over 50 exhibitions with a coherent curatorial program. Since 2012, the gallery participates in international art fairs, promoting Romanian artists to reaching collectors and curators from various institutions. Since 2012, Anca Poterașu Gallery participates every year at some of the most important international art fairs: Paris Photo, ARCO Madrid, Artissima Art Fair Torino, NADA Miami, LOOP Barcelona, ​​Vienna Fair Contemporary, and now Frieze Sculpture.

When: 14 September - 31 October 2021
Where: The Regent's Park, London
Free entry.