"Vulpe-vânător" la "Cinemateca românească"
16/12/2013 @ Romanian Cultural Institute, 1 Belgrave Square, London SW1X 8PH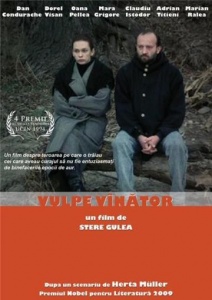 2013's Romanian Cinematheque series ends with the screening of an unsettling drama - "Fox-Hunter" ("Vulpe-vânător"), one of the first Romanian feature films portraying life under terror during Ceauşescu's dictatorship. The screening is part of Repression and Exile, Remembering the Fall of Communism in Romania, an event that looks back on the dark days of the Revolution of 1989.
Starring renowned actors Oana Pellea and Dorel Vişan, as well as Romanian-born actor and producer living in Britain - Cristina Catalina, "Fox-Hunter" is the adaption of Nobel-Prize winner Herta Müller's novel "Even Back Then, the Fox Was the Hunter". On the eve of Ceauşescu's overthrow, a young school teacher catches the attention of the authorities for her subversive lyrics written for a popular local rock band. Fortunately, the fall of Ceauşescu's regime forces the torturers to retreat, but once the uncertainty is gone, the terror settles back.
Stere Gulea has directed over ten films and has written numerous screenplays. His best known feature is "The Moromete Family" ("Moromeţii", 1988), the adaptation of Marin Preda's novel of the same title, and a film that was approved by the communist propaganda five years after its completion. His filmography includes "Weekend With My Mother" ("Weekend cu mama", 2009), "Hacker" (2004), "State of Things" ("Stare de fapt", 1996), and "The Green Grass of Home" ("Iarba verde de acasă", 1978). His last film, released this year, "I'm an Old Communist Hag" ("Sunt o babă comunistă"), is a playful light-hearted construction beneath a sober palette of social realism.
The screening will be preceded by a discussion with Romanian-born artist living in London, Mariana Gordan, who will present her newly published book "State Property", a descent into the hell of communist existence.
Romania | 1993 | 91 min | directed by: Stere Gulea | with: Oana Pellea, George Alexandru, Dan Condurache, Dorel Vişan, Mara Grigore, Claudiu Istodor, Adrian Titieni, Marian Râlea, Cristina Catalina. In Romanian with English subtitles.
When: Monday 16 December, 7pm discussion; 7.30pm screening.
Where: Romanian Cultural Institute, 1 Belgrave Square, London SW1X 8PH
Entrance is free, but please confirm your attendance at office@icr-london.co.uk or 0207 752 0134.