Star Thespian Maia Morgenstern in 'Janka' at the Romanian Cultural Institute
16/03/2017 @ Romanian Cultural Institute, 1 Belgrave Square, London SW1X 8PH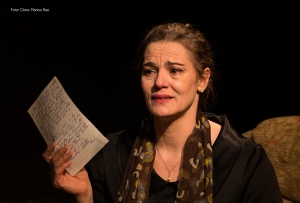 Don't miss the one-off performance of Oscar Speace's 'Janka', a tour-de-force starring one of Romania's most beloved actresses, Maia Morgenstern. 'Janka', a Jewish Theatre of Bucharest production, is the intimate portrayal of a Holocaust survivor, "a story of adversity, resilience and of the human spirit" (Donald Munro), and it is presented in London as part of the Romanian programme at the London Book Fair 2017, dedicated to Jewish Romanian author Benjamin Fondane.
'Janka' is based on the real life Janka Festinger, a Jewish woman born in the Romanian town of Sighet who survived deportation to Auschwitz, being one of the only three members of an extended family of 66 who came back from the Nazi death camps. Liberated in 1945, Janka arrived in Germany and soon became reconnected to her only close living relative, her uncle Morris Festinger, who had emigrated in Canada before the war. The play is based on Janka's 60-page frank and poignant letter sent to him, in which she describes the horrors she had to live through.
'Janka'
By Oscar Speace
Translated by: Ioan J. Popescu
With: Maia Morgenstern
Directed by: Toma Enache
The play will be performned in Romanian with English surtitles.
"This is a testimonial, a moving life document, an act of respect for the drama of millions of people, a very important act of restoration and a cry from another world to us here and our fading memory" – Maia Morgenstern
When: Thursady, 16 March 2017 from 19:00 to 21:00
Where: Romanian Cultural Institute - 1 Belgrave Square London SW1X 8PH
Entrance is free but it is required to book your ticket on Eventbrite.
Please note that the seating is unreserved.