Spring Comes Early at the Enescu Concerts Series
05/03/2015 @ Romanian Cultural Institute, 1 Belgrave Square, SW1X8PH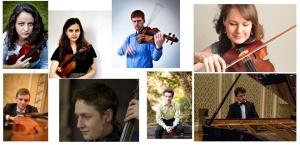 Some of the most promising young Romanian musicians in London and their guests celebrate the coming of spring with an exciting programme of Enescu, Mozart and Mahler. The concert, part of our popular Enescu Series and offered under the patronage of HE dr. Ion Jinga, the Ambassador of Romania to the Court of St James's, is also a tribute to the perennial virtues of feminity, celebrated worldwide on March 8 through the International Women's Day. The youthful ensemble, featuring the finest Romanian students at the most prestigious London schools and their equally talented peers is made of Ioana Forna – violin, Maria Gîlicel – violin, George Paşca – cello, Alexandru Lazăr – piano, Francis Gallagher – viola, Lisa Bucknell – viola, and Jamie Kenny – doublebass.
The evening's special guest is the young pianist Szőcs Botond of the Braşov Music Faculty, hailed as a 'revelation' by musical pundits, who will present works by Chopin and Enescu. His appearance is supported by the Romanian Arts and Folklore Association.
Programme:
Wolfgang Amadeus Mozart - String Quintet No. 4 in G minor, K. 516
George Enescu - Aria and Scherzino
Solo mini recital Szőcs Botond with works by Frederic Chopin and George Enescu
Gustav Mahler - Piano Quartet in A minor
Award-winning violinist, Ioana Forna is currently participating on a Master of Performance course at the Royal College of Music with Prof. Berent Korfker and Mark Messenger. She is a highly trained chamber musician and she performs regularly across London and elsewhere in Europe and the U.K. Ioana's performances as a solo or chamber musician have taken her to venues such as St Martin-in-the-fields, Cadogan Hall, Kings Place, Royal Festival Hall, and other similar venues. More recently she has been part of the Castleton Festival with Maestro Lorin Maazel, the Chipping Campden Festival Orchestra and Sacconi Festival lead by the Sacconi Quartet. Her training and collaborations have allowed her to work with several internationally acclaimed artists such as the Belcea String Quartet, the Vogler Quartet, the Fine Arts Quartet, Leonid Kerbel, Alexander Sitkovetski, Levon Chillingirian, Karel Boeschoten, Alexander Gavrilovici, Simon Rowland Jones and Garfield Jackson. She is grateful for the support given to her for her studies by a Leverhulme Postgraduate Studentship and by Stephen Bell Charitable Trust.
Born in 1995, violinist Maria Gilicel is currently studying the violin with Ani Schnarch at the Royal College of Music, in her Second Year of her Bachelor of Music studies. She has performed in venues such as Royal Festival Hall, Amaryllis Fleming Concert Hall, St. James's Church in Picadilly, Museo Sartorio di Trieste and the National Auditorium in Madrid; and has participed in several masterclasses with Leonid Kerbel, Peter Shuhmayer, Itzakh Rashkovsky, Vera Martínez Mehner and Mariana Sirbu. Maria has experience in different chamber music groups, but she is mainly focused on her piano quintet and piano trio at the moment, all of them in collaboration with other RCM students. She plays on a Giulio Degani (Venezia, 1904) offered in loan by the Royal College of Music.
A founding member of the Sattler Quartet, Francis Gallagher is an award-winning viola soloist, chamber and orchestral performer currently established in London. He holds first prizes in both the Max and Peggy Morgan Viola Competition at the Guildhall School of Music 2014 and the Cecil Aronowitz Viola Competition at the Royal College of Music in 2013. He has been invited to play at many venues across London and the U.K including Waltham Abbey, Milton Court Hall in Barbican, King's Place, St John's Smith Square, and the Amaryllis Fleming Concert Hall in London. Francis' orchestral experience includes principal seat for the Royal College of Music Orchestras and the Lake District Academy Orchestra and has worked with world-renowned conductors such as Leif Segerstam, Sir Roger Norrington, Sir Antonio Pappano and the late Lorin Maazel. Francis is currently studying at the Guildhall School of Music and Drama with Kzrysztof Chorzelski and he is grateful to the Albert and Eugenie Frost Trust for supporting his studies at the school. Throughout his training he has received guidance from Jennifer Stumm, Ivan Vukcevic, Carol Rodland, Garfield Jackson, Predrag Katanic and Paul Coletti. Ultimately Francis wishes to develop his career in orchestral and string quartet playing.
Lisa Bucknell has performed around the United Kingdom with the Scottish Ensemble, the Southbank Sinfonia, the BBC Concert Orchestra, and Birmingham Royal Ballet. She has been on trial with the Royal Philharmonic Orchestra, and also performed in the Alan Bennett play "Untold Stories" at the National Theatre and on the West End. She was a prizewinner at the North London Festival of Music, a finalist in the Kenneth Loveland and Brian Boak Outstanding Performer Awards, and a recitalist for the New London Orchestra Young Performers Concert Series.nLisa is very grateful for the support of the Richard Carne Trust, the Tait Memorial Trust, the John and Heather Clemence Charitable Settlement, the Simon Fletcher Charitable Trust, the Vaughan Williams Charitable Trust, the Denne Gilkes Charitable Trust, the Lynn Trust, and Pirastro GmbH.
George Pașca was born in Arad, Romania and started his musical training at the Sabin Dragoi Arts High School, where he studied cello and piano. Between 2009 and 2013 George has attended a full time BMus (Hons) Performance course at the Trinity Laban Conservatoire of Music and Dance, where he studied cello with Joely Koos and baroque cello with Susan Sheppard. Since studying in the U.K. George has been generously sponsored by well-known trusts such as the Sidney Perry Foundation, the Raphael Summer Music Scholarship Trust and the Ofenheim Charitable Trust. George has recently completed his MMus Performance course at Trinity Laban, under the tuition of Naomi Butterworth and presently leads an active life as a solo, chamber and orchestral musician in both London and his home town in Romania.
Jamie Kenny freelances with orchestras such as English National Opera, Britten Sinfonia and Oxford Philomusica. He has also played with the Gustav Mahler Jugendorchester, Britten Pears Orchestra and was Principal double bass for Lorin Maazel's Castleton Festival Orchestra. Jamie was selected for the 2015 London Symphony Orchestra String Experience Scheme and took part in the 2014 London Sinfonietta Academy. He has worked with conductors such as Bernard Haitink, Semyon Bychkov, Michael Tilson Thomas, Vladimir Jurowski and Vladimir Ashkenazy. He has also performed in master classes with Matthew McDonald (Principal of Berlin Philharmonic), Herbert Mayr (Principal of Vienna Philharmonic), TimCobb (Principal of New York Philharmonic) Joel Quarrington (Principal of London Symphony Orchestra) and Maxim Vengerov. He completed his Undergraduate degree at the Royal College of Music with Thomas Martin and is currently studying towards a Master's degree at the Royal Academy of Music with Dominic Seldis and Graham Mitchell.
Alexandru Ioan Lazăr was born in 1993, starting his muscial training in Deva, Romania at the age of seven. Over the years, he has participated in numerous national and international competitions. Some of his most important prizes are: First Prize and Gold medal in the Maryse Cheillan Piano Competition in Hyere, France; First Prize in the Giovanni Talenti International Piano Competition in San Bartolomeo al Mare, Italy; First and Grand Prize in the Orpgeus Euro Regional Piano Competition in Targu Jiu, Romania and finally, J.S. Bach Prize in the Dinu Lipatti International Piano Competition in Romania. Alexandru has taken part in masterclasses with teachers and pianists such as Daniel Goiti, Matei Varga, Eduard Kunz and Norma Fisher. Currently, Alexandru is studying at the Royal College of Music in London with Prof. Norma Fisher, working towards finishing his degree.

Szőcs Botond is a student of the renowned pianist and Professor Stela Drăgulin, at the Braşov Music Faculty. He has participated in many national and international competitions, gaining lots of prizes, among which The Remember Enescu Prize offered by the George Enescu Foundation. The pianist had numerous concert apparitions in Romania, in Braşov, Târgu-Mureş and Bucharest at the prestigious Romanian Athenaeum or the Radio Hall. In 2012-2013 he has started to appear as a soloist with renowned symphonic orchestras such as Sibiu Symphonic Orchestra.
When: Thu, 5 March, 7pm
Where: Romanian Cultural Institute in London, 1 Belgrave Square, SW1X 8PH
Free entrance. Please book your ticket on Eventbrite