Iancu Dumitrescu and Ana Maria Avram @ Famous Cafe Oto
07/01/2013 @ Cafe Oto, 18 - 22 Ashwin Street, Londra, E8 3DL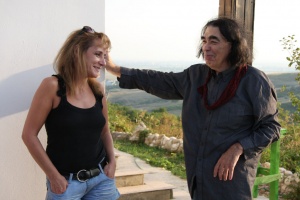 We are proud to support the third event in Cafe Oto's ongoing series co-curated by Stephen O'Malley and featuring maverick electro-acoustic composer Mats Lindström and new works by Romanian spectralist composers Iancu Dumitrescu and Ana-Maria Avram, performed by the Hyperion Ensemble.
Iancu Dumitrescu is considered one of the leaders of the spectral music trend at a worldwide level. In 1976 he founded the Hyperion Ensemble, proposing a new aesthetic in today's music, hyper-spectral, based on the radiant power of sound, within its microcosmic complexity - which is questioned, analyzed, re-composed ​​from a spectral perspective. He centers his work on the phenomenological principle, which Sergiu Celibidache made him to discover, and which Dumitrescu applies to the composition itself, and on the idea of acousmatics.
Ana-Maria Avram is a composer, pianist, conductor, born in 1961 in Bucharest, Romania. She studied composition at the National University of Music- Bucharest and musical aesthetics at Sorbonne, Paris. She has been a member of the Hyperion Ensemble since 1988. Her music is affiliated with the spectral music trend and incorporates the outward semblances of abstraction of archetypal sound, achieving its full development in the synthesis of electroacoustic and instrumental sources. She composed since now around 130 works, music for soloists, chamber music, music for orchestra, electronic music and computer assisted music.
When: Monday, 7 January, 8 pm
Where: Cafe Oto, 18 - 22 Ashwin Street, London, E8 3DL
Tickets: £ 8 on-line here.