"Trajan 1900". British Star Richard Johnson Introduces Mircea Drăgan's Film "The Column" at the Romanian Cinematheque
21/11/2013 @ Romanian Cultural Institute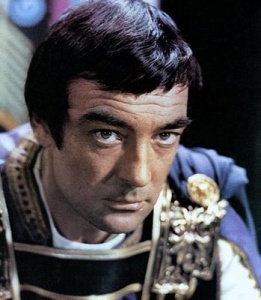 In Romanian with English subtitles.
"Columna" ("The Column"), a grand cinematic chronicle presenting one of the most consequential moments in European history, screens at the Romanian Cinemateque in the presence of its leading star Richard Johnson. The screening is part of "Trajan 1900", a celebration of the 1900th anniversary of the dedication of Trajan's Column in Rome, a timeless and crucially significant monument for the history of Romania and Europe.
A star-studded international cast, crowned by Richard Johnson, Amza Pellea and Antonella Lualdi, the film portrays one of the most ferocious battles of the Ancient World, that between Trajan's Roman legions and the Dacians led by the valiant king Decebal. The story of the conquest of Dacia, skilfully told by director Mircea Drăgan and screenwriter Titus Popovici with all the ingredients of a sumptuous historical re-enactment, makes for a film as much about ambition, betrayal and military glory as about the birth of a nation.
Actor Richard Johnson, one of the great leading men of the British cinema of the sixties and seventies, will attend the screening and discuss the avatars of this true blockbuster of the time with journalist Henrietta Foster.
The screening will be preceded by the opening of Architect Matei Filip's stereoscopic photography exhibition portraying the dramatic narrative of the Dacian Wars, in the "Brâncuşi" Gallery of the Institute.
When: Thursday 21 November, 6.30pm exhibition opening, 7.30pm screening, followed by Q&A with Richard Johnson and Henrietta Foster.
Where: Romanian Cultural Institute, 1 Belgrave Sq, SW1X 8PH
Entrance is free, but please confirm attendance at office@icr-london.co.uk or 0207 752 0134.