Special Screening: Of Snails And Men (Despre oameni si melci) premieres in London. Director Tudor Giurgiu and leading actress Monica Birladeanu will attend
18/07/2013 @ Gate Picturehouse, Notting Hill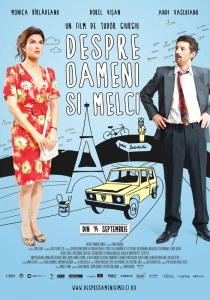 Romanian box office hit Of Snails and Men will have its much awaited London premiere on 18 July, at the Gate Picturehouse cinema, in the presence of acclaimed director Tudor Giurgiu and beloved actress Monica Birladeanu.
Of Snails and Men is one of the most successful Romanian films of the past decade – Tudor Giurgiu's comedy is on the first place in the 2012 top of Romanian films, according to the numbers of cinemagoers. The film was also successful internationally: the Special Jury prize winner at the 28th edition of Warsaw Film Festival and ex-aequo winner of the Meeting Point section of the Valladolid International Film Festival. In addition, the film was the 2013 recipient of the Bridging the Borders award for Best Film at the Los Angeles' SEEFest. The UK premiere was part of the Edinburgh International Film Festival - International Competition (28 & 29 June 21013).

The audience will have the chance to enjoy performances by much-loved Romanian actors such as Andi Vasluianu, Monica Birladeanu, Dorel Visan, Andreea Bibiri, Valeria Seciu, Ovidiu Crisan, Ion Grosu, Clara Voda and Alina Berzunteanu, as well as the renowned French actor Jean François Stevenin and his son, Robinson Stevenin. Jean François Stevenin played important parts in films by filmmakers such as François Truffaut, Jacques Rivette, Bertrand Blier, Jacques Demy and Jean-Luc Godard, this being his first role in a Romanian movie.
Of Snails and Men is based on a true story. A car manufacturing plant is about to get bought out by a large father-and-son French company. Instead of cars, the factory will be converted in order to process and can escargot. There will be downsizing as a result of the conversion, so not everyone is guaranteed a spot on the canning floor. In order to save the plant, the factory workers need to come up with $150,000 to buy the factory for themselves. One of them comes up with a kooky idea to raise the funds: they plan to donate sperm to a fertility clinic.
The film has been compared to The Full Monty: both are crowd pleasers that raise questions of dignity and employment. Having a good job is a source of pride, and people will sometimes do undignified things in order to make ends meet.
The gala screening is organised by the Romanian Cultural Institute in London in partnership with Gate Picturehouse.
When & Where: 18 July, 18:30 at Gate Picturehouse, 87 Notting Hill Gate, London W11 3JZ
Tickets: £10.60 from www.picturehouses.co.uk, from 0871 902 5731 or in person from the cinema (no booking fee)
++++++++++++++++++++++++++++++++++++++++++++++++++++++++++++++++++++++++++++
Director's statement:
"My film is based on a true story. It is about an ordinary man who faces a big change: the fall of communism makes his domestic universe shaky. The way he lived his entire life is now endangered. We see this as a comedy, but it's also a very realistic film. Making a bitter-sweet comedy was not easy, and I was very preoccupied with capturing the 1990s vibe in Romania. It was a time full of idealism, naivety, and hope. Most people, especially those from small towns, were either dreaming of leaving the country or finding a way to get rich very quickly. I fell in love with Ionut Teianu's script and I knew from the very beginning that such a story (about men selling their sperm in order to save their jobs) needed to be told gently and with empathy."
Of Snails and Men is a French-Romanian joint venture co-produced by Libra Film (Romania) and Agat Films (France).
Tudor Giurgiu – Director
Ionut Teianu – Scriptwriter
Vivi Dragan Vasile – Director of Photography
Vlaicu Golcea – Composer
Oana Giurgiu – Producer

Running time: 90 min | In Romanian with English subtitles.