Special screening and DVD launch of Tuesday, After Christmas
09/05/2012 @ Riverside Studios, London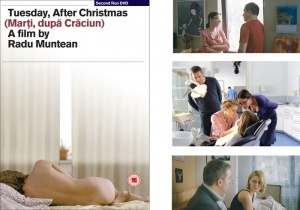 A great opportunity to meet director Radu Muntean
We are delighted to announce a special screening for the DVD launch of Tuesday, After Christmas, released in the UK by Second Run DVD. The event will be followed by a Q&A session with director Radu Muntean, "one of the Romanian New Wave's spikiest talents" (Tim Robey, The Telegraph).
Tuesday, After Christmas (Marţi, după Crăciun) is an astutely observed, deeply felt and intimately frank adult drama which chronicles the emotional fallout from a classic love triangle. Paul Hanganu loves two women: Adriana, his wife and the mother of their daughter, the woman with whom he has shared his life for the past ten years, and Raluca, the woman who has made him redefine himself. But just before Christmas he must choose between his two lives and finds himself in a difficult situation of having to leave one of the two women he loves.
Romania | 2010 | 98min | director: Radu Muntean | screenwriters: Alexandru Baciu,
Radu Muntean, Razvan Radulescu | cast: Mimi Branescu, Mirela Oprisor, Maria Popistasu.
In Romanian with English subtitles.
The DVD can be purchased from http://www.secondrundvd.com
"I have tried to put into film the voyeuristic sensation that one might get from looking inside people's houses, from walking into a couple's kitchen or bedroom. Marital intimacy can be more captivating than a good action movie. This is not a film about guilt. This is a film about choices. A crossroads in life, where you feel you can control your own destiny. This is when you are at your most vulnerable, even though, for the first time ever you may feel you hold the power to turn your life around." (Radu Muntean)

Director and screenwriter Radu Muntean is a central figure of the Romanian New Wave. His latest film Visiting Room (Vorbitor), directed together with Alexandru Baciu, follows the stories of some prisoners found in different penitentiaries across the country, who have found their life partner during their sentence time.
Radu has also kindly agreed to take part in a community project we are currently developing with Four Corners, entitled East Meets East. The director, together with other three leading figures of the Romanian cinema: actress Anamaria Marinca, screenwriter Alexandru Baciu and editor Catalin Cristutiu, will conduct workshops and masterclasses for 20 youngsters coming from disadvantaged backgrounds who aspire to become filmmakers.
When: 9 May 2012, 8pm
Where: Riverside Studios, Crisp Road, London W6 9RL
Tickets: Standard - £9.50 / Concessions - £8.50 from www.riversidestudios.co.uk