Special Event for Children: Alec Blenche is Meeting His Young Audience
09/07/2022 @ Romanian Cultural Institute in London, 1 Belgrave Square, SW1X 8PH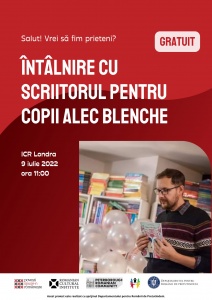 RCI London is hosting a fascinating event for our young audience featuring Alec Blenche, a Romanian children's book writer who will immerse everyone in the process behind creating exceptional characters and meaningful stories. A special musical moment by the author himself will conclude the joyful event.
Alec Blenche is a well-known children's book writer and a nutritionist. His writings are highly appreciated and cherished by children and his character Erus is a star among Romanian children. Some of the titles: "Erus şi Valea răbdării", "Erus şi misterul de pe insula Zburicornilor", "Erus şi cele 7 lumi nevăzute".
The event is organized in partnership with Povești spuse-n românește.
When: Saturday, 9 July at 11AM
Where: Romanian Cultural Institute, 1 Belgrave Square, London SW1 8PH
Entrance is free.