Songs of Awakening: Series of musical performances to celebrate the spring
13/04 - 01/06/2021 @ online | Website, Facebook page and YouTube channel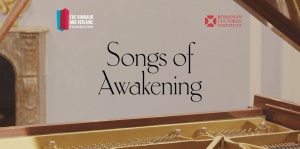 Drift away with delightfully unpredictable, original and rare performances hosted by RCI London in partnership with the renowned British organization Rimbaud & Verlaine Foundation starting 13 April. A series of short films featuring the soprano Rose Stachniewska and the mezzo-soprano Lotte Betts-Dean accompanied by the pianist Cristian Sandrin will lead you in the pulsating and elegant musical world of the 19th and early 20th century classical composers such as Debussy, Ravel, Chausson and Enescu.
Programme:
13 April: Enescu - Sept Chansons
20 April: Enescu - Piano sonata in F# minor op. 24 no. 1 (2nd and 3rd movements)
27 April: Debussy - En sourdine
4 May: Chausson - La nuit. Duet, Op. 11
11 May: Ravel - Là-bas, vers l'église and Chanson de la mariée
18 May: Ravel - La vallée des cloches from Miroirs
25 May: Debussy - Fantoches
1 June: Chausson - Réveil, Duet, Op. 11
Rose Stachniewska is a British soprano, a Samling artist and Britten-Pears Young Artist. She graduated from the Royal Conservatoire of Scotland, as well as from the Royal College of Music (with distinction in her master's) where she studied with Rosa Mannion and John Blakely. Some of her recent performances include Tytan in A Midsummer Night's Dream (The Grange Festival), Mabel in The Pirates of Penzance Tour with Opera Holland Park Inspire Anne Trulove (cover) The Rake's Progress (British Youth Opera), Nun in Prokofiev's The Fiery Angel (Scottish Opera), Soprano 1 in Le Vin Herbé by Frank Martin and Le Renard/La Soeur Jumelle in Les Malheurs d'Orphée by Milhaud (RCS).
Lotte Betts-Dean is an Australian mezzo soprano, a versatile and dynamic concert artist, whose performance experience encompasses opera, oratorio, contemporary music, art song recital/chamber music, early music and non-classical collaborations. She has graduated with an MA (Distinction) from the Royal Academy of Music in 2016. Lotte is Associate Artist with Southbank Sinfonia and also a member of London-based contemporary music group Ensemble x.y. She is a City Music Foundation Artist for 2017-2019, recently won the 2019 Oxford Lieder Young Artist Platform, and was selected as a 2020 Samling Young Artist.
Cristian Sandrin is a Romanian pianist whose first contact with the piano happened at very young age since music played an inhered part of his family life. Born in Bucharest, Cristian first studied in Romania under Marina Dragomirescu and Cristian Dumitrescu, winning numerous local competitions eventually having his public debut at the prestigious Romanian Atheneum at the age of 13.
Cristian has studied at the Royal Academy of Music and he completed his last degree at the Academy in 2019, the Advanced Diploma, a special programme reserved only for the very best students of this institution. Previously, in 2018, he received a DipRAM distinction, awarded for an outstanding performance for the Master of Music final recital. He has been extensively touring the UK as an artist of the Countess of Munster Recital Scheme in 2018-2020. He held a very successful and critically well received debut solo recital at the Wigmore Hall in 2017.

The series has been recorded at RCI London premises, 1 Belgrave Square on 20 & 21 March.
When: 13 April, 20 April, 27 April, 4 May, 11 May, 18 May, 25 May, 1 June 2021
Where: RCI London Facebook page, YouTube channel and website.